Juli 2012: 29.| The Seventh Cross OV (US — 1944 | Regie: Fred Zinnemann) Basierend auf einem Anna Seghers Roman von 1942 entstand dieser Film ein Jahr vor Kriegsende. Die ideologische Basis ist erkennbar, das Drehbuch ausgewogen, vielschichtig und verdammt spannend. Inklusive herausragender Schauspielerleistungen ein beeindruckendes Werk. Und eine absolute Empfehlung ... | Toy Story 2 BD (US — 1999 | Regie: John Lasseter; Lee Unkrich & Ash Brannon) Großer Spaß mit kleinen Spielzeugen. Vielleicht der schwächste Teil der Trilogie, aber auf diesem Niveau ist das eine sehr relative Aussage. 31.| Dirty Rotten Scoundrels (US — 1988 | Regie: Frank Oz) Hochgradig gute Unterhaltung an der Côte d'Azur mit einem bestechend aufgelegten Schauspielerduo/-trio. Hier stimmt in Sachen Chemie, Witz & Flair so ziemlich alles — bis zum Schluss. Hauptsächlich wegen Jürgen Thormann (wieder) auf deutsch geguckt. Dr. Emil Schauffhausen FTW. Ich liebe diesen Film.
August 2012: 5.| Hotaru No Haka (JP — 1988 | Regie: Isao Takahata)
Kontrastprogramm. Die letzten Glühwürmchen — ein Anime des Studio Ghibli. Diesmal allerdings so schonungslos und niederschmetternd traurig wie nur irgendwas ... ein sehenswerter Antikriegsfilm. | Monsters, Inc. BD (US — 2001 | Regie: Pete Docter; Lee Unkrich & David Silverman) Solide Kurzweil aus dem Hause Pixar. Brauchte bei mir aber etwas bis sie in Fahrt kam. Beim nächsten Mal wird er im O-Ton geguckt. 14.| Cars BD OV (US — 2006 | Regie: John Lasseter; Joe Ranft) Auch wenn die Geschichte selbst kaum neu ist, die Animationen & Ideen sind klasse und außerdem hört man Paul Newman bei seiner letzten Arbeit. Hat mir in jedem Fall mehr Spaß gemacht als der Film vorher. 15.| Playtime BD (FR·IT — 1967 | Regie: Jacques Tati)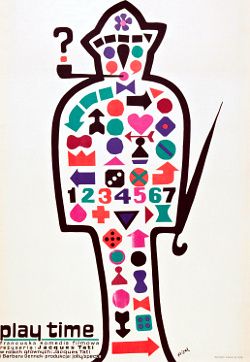 (Fast) sprachloses Meisterwerk eines großartigen Menschenbeobachters. 20.| Modern Times BD (US — 1936 | Regie: Charles Chaplin) Genial, zeitlos, unvergesslich. Klassiker. 21.| Chaplin BD (FR·IT·JP·US — 1992 | Regie: Richard Attenborough) Ich fand, dass das eine stimmig verfilmte Biographie war. John Barrys Hauptthema blieb mir zudem noch tagelang im Ohr ... 22.| Despicable Me BD (US — 2010 | Regie: Pierre Coffin & Chris Renaud) Hierzu möche ich Folgendes sagen: © 2010 Interscope Trotz US-Produktion: Die feine französische Note ist spürbar. Très bien! 26.| Cloudy With A Chance Of Meatballs BD (US — 2009 | Regie: Phil Lord & Chris Miller) Weniger fein, mehr so mit der groben Kelle. Ziemlich bunt, ziemlich abgedreht. *rülps* | Ratatouille BD (US — 2007 | Regie: Brad Bird & Jan Pinkava) Pixar haute cuisine. Superb! 29.| A Bug's Life BD (US — 1998 | Regie: John Lasseter & Andrew Stanton) Weil's so schön sein kann. Tolles Frühwerk der fleißigen Animationsameisen aus Emeryville. 30.| The Hunger Games BD OV (US — 2012 | Regie: Gary Ross) Zweitsichtung. Kino-Einzelbeitrag hier. September 2012: 1.| Carnage BD OV (DE·ES·FR·PL — 2011 | Regie: Roman Polański) Vernunft & Anstand können einem manchmal aber auch so was von auf den Sack gehen. Polański bittet zum intimen Paargespräch, das in Echtzeit aus dem Ruder läuft. Und es ist ein Genuss, dabei zuzuschauen.