F·MEX·USA — 2006 | Regie: Alejandro González Iñárritu (...)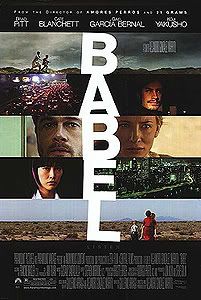 Chaostheorie meets
'Culture Clash'
— vielleicht lässt sich auf diese Art der dritte Spielfilm des von den Kritikern geliebten Mexikaners Iñárritu (etwas vordergründig und irreführend) einordnen. Ich bin ehrlich gesagt jetzt schon gespannt auf seinen kommenden Film, denn soweit mir bekannt, ist die von ihm und Guillermo Arriaga (Drehbücher) ersonnene und relativ beklemmende Trilogie über die Vielfalt zwischenmenschlicher Beziehungen, die durch Zufall und/oder Schicksal (?!) auf harte Proben gestellt werden, nach
Amores Perros
(2000) und
21 Grams
(2003) mit
Babel
abgeschlossen.
Vier Handlungsstränge auf drei Kontinenten (weniger 'nicht-chronologisch' miteinander verschnitten als z.B. im Vergleich zu
21 Grams
) machen deutlich, dass Entfremdung, Missverständnisse, Enttäuschungen und daraus resultierendes Leid im Leben oft Folge einer mangelhaften Kommunikation im weitesten Sinne sind — sei es ganz offensichtlich bei einer taub-stummen Heranwachsenden in Japan, einem nicht arabisch sprechenden Touristenpaar in Marokko oder beim Grenzübergang Mexiko/USA (Stichwort:
Babylonische Sprachverwirrung
).
Warum hier in der Regel Kinder/Jugendliche der Auslöser (für die Verkettung) der existenziellen Umstände sind, will sich mir momentan nicht so recht erschließen ... vielleicht weil man gerade ihnen mehr Beachtung schenken bzw. Verständnis entgegenbringen sollte?
In jedem Fall hat mich der Film an sich, seine Bilder und die ruhige Erzählweise absolut gefesselt. Ein bewegender Genuss, der einen mit einem wunderbaren Gefühl der Nachdenklichkeit in die eigene Realität entlässt ...
If you want to be understood ... listen.