GB — 1963 | Regie: Terence Young (...)
'Never change a winning team'. Ein Jahr und fünf Tage nach der Premiere von
Dr. No
und dessen überwältigendem, weltweiten Erfolg, startete der zweite
Bond
(Drehbeginn: 1. April '63) — erneut in London, und (mehr oder weniger) erneut von der bewährten Filmcrew inszeniert.
From Russia With Love
, Flemings 1957 veröffentlichter und fünfter Roman der jährlich während seinem zweimonatigen Urlaub auf Jamaika ergänzten Reihe, wurde ausgewählt nachdem in der Presse bekannt wurde, dass dieser zu der Liste der zehn Lieblingsbücher von US-Präsident Kennedy zählte.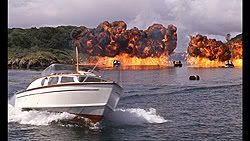 "The Cold War in Istanbul will not remain cold very much longer."
Zu Lande, zu Wasser und 'aus' der Luft: für seinen (filmischen) zweiten Auftrag muss
Bond
alle Register in einem vermeintlich klassischen Spionagefall ziehen, der ihn nach Istanbul, in den
Orient-Express
und schließlich nach Venedig führt. Doch im Gegensatz zur Romanvorlage wird im Film ganz bewusst auf eine direkte Konfrontation zwischen Ost & West während des Kalten Krieges verzichtet.
Stattdessen wird die bereits kurz in
Dr. No
erwähnte Terror-Organisation
S.P.E.C.T.R.E.
eingeführt. Die
"

SP

ecial

E

xecutive for

C

ounter-Intelligence,

T

errorism,

R

evenge and

E

xtortion"
ist eine fiktive weltweite Vereinigung einflussreicher Krimineller, deren letztendliches Ziel die Weltherrschaft ist; sie dient in so gut wie allen
Bond
-Filmen als übermächtiger und gemeinsamer Gegner aller ziviler Staaten und stellt auf diese Weise den 'idealen Bösewicht' dar. Der oberste Kopf der Gruppe,
Ernst Stavro Blofeld
, hat in
From Russia With Love
seinen ersten 'kopflosen' Streicheleinsatz und wird hier zunächst nur mit seinem Alias
"Nummer 1"
angeredet.
Endgültig etabliert wurde nun auch ein filmischer Vorspann vor den eigentlichen Eröffnungstiteln (eine Idee von Cutter Peter R. Hunt) inklusive dem ersten
Bond
-Song (geschrieben von Lionel Bart, gesungen von Matt Monro). Für die Filmmusik zeichnete nun komplett John Barry verantwortlich ... der Auftakt vieler genialer Soundtracks der
007
-Serie aus der Feder des Briten.
Das umfangreiche Bonusmaterial der derzeit käuflichen
Ultimate Edition DVDs
der ersten 20
Bond
-Filme ist absolut empfehlenswert und liefert jede Menge interessante Hintergrundinfos — daneben seien vielleicht noch diese drei 'Online-Ressourcen' genannt:
CommanderBond.net
|
The James Bond International Fan Club
|
Club James Bond France
.
Nachtrag
: Ollen
martinistevemcqueen
meinte, dass in diesem (doch wieder längeren) Elaborat meine Meinung zum Film fehlt ... hat er recht.
Liegt zum einen wohl daran, dass es mir grundsätzlich schwerfällt, dem Charme der '60er Jahre
nicht
zu erliegen, zum anderen wähle ich meine Kauf-DVDs ziemlich sorgfältig aus (Stichwort: [subjektive] "Bedeutungshaltbarkeit/-nachhaltigkeit") — will sagen: auch dieser
Bond
macht natürlich absolut Laune und zählt eindeutig zu den Klassikern des Genres bzw. der Reihe!