USA — 1985 — Back To The Future | Regie: Robert Zemeckis (...)
USA — 1989 — Back To The Future Part II | Regie: Robert Zemeckis (...)
USA — 1990 — Back To The Future Part III | Regie: Robert Zemeckis (...)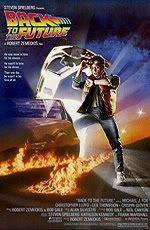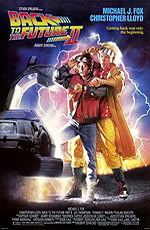 Wait a minute, Doc. Are you telling me you built a time machine ... out of a DeLorean?!
Beim Durchblättern des High-School-Jahrbuchs seines Vaters stellt sich Bob Gale die Frage, wie seine Eltern wohl zu Schulzeiten bzw. als Teenager so drauf waren — gegen Ende 1980 zimmert er daraus zusammen mit seinem Filmhochschulkommilitonen Robert Zemeckis ein Drehbuch, das mit einer Zeitreise aufwartet, die vor puzzleartig passendem Ideenreichtum nur so strotzt. Es braucht allerdings noch einige Jahre bzw. den Erfolg von Zemeckis' Abenteuerkomödie
Romancing The Stone
(
"Auf der Jagd nach dem grünen Diamanten"
) bis dieser (unterstützt von seinem Produzenten & Freund Steven Spielberg, der zu diesem Zeitpunkt [u.a.!] mit zwei '
Indiana Jones
'-Filmen oder
E.T.
bereits bestens im Geschäft ist) ein für eine derartige Geschichte williges Studio findet.
Fasziniert von dem Konzept der Zeit- [und nicht Raum-]reise des auf dem gleichnamigen Herbert-George-Wells-Roman basierenden Klassikers
The Time Machine
(1960), beschreiben Zemeckis & Gale die temporalen Verstrickungen von
Marty McFly
(Michael J. Fox) und seines Freundes
"Doc" Emmett L. Brown
(Christopher Lloyd) in & um dem amerikanischen (auf dem
Universal
-Studiogelände entstandenen) Kleinstädtchen
Hill Valley
. Das Ganze gleicht einer von Anfang bis Ende großartigen und bis ins Detail durchdachten Achterbahnfahrt zwischen 1955 und 'zurück in der Zukunft' des Jahres 1985; bewusstermaßen keine schwer verdauliche Kost, dafür entsprechend kurzweilig & umso bekömmlicher — man könnte sagen: Zemeckis-typisch ... Fox als leicht konfuser Heranwachsender (parallel noch die Serie
Family Ties
drehend) und Lloyd als hibbeliger, Einsteinesker Erfinder harmonieren bestens und der Charme der dargestellten Zeit(en) und des restlichen Ensembles tun ihr Übriges!
What about all that talk about screwing up future events? The space-time continuum?
— Well, I figured, what the hell.
Der unerwartet riesige Erfolg des Films verleitet das Studio zu der Idee, eine Fortsetzung zu drehen. Nach der Zusage von Fox & Lloyd (sowie des [bis auf den
Martys
Vater verkörpernden Crispin Glover] Hauptteils der Schauspielerriege des ersten Films) liefern Zemeckis & Gale ein derart umfangreiches Drehbuch ab, dass man sich entschließt, daraus zwei Teile zu machen — entgegen allen Vermutungen versichert Zemeckis in den Interviews des DVD-Bonusmaterials eindeutig & glaubhaft, dass
BTTF
1985 nie für eine Fortsetzung geschweige denn Trilogie angelegt war. Bspw. brachte die Tatsache, dass
Marty
s Freundin
Jennifer
am Ende des Films mit in den zur Zeitmaschine umgebauten DeLorean steigt, einige Schwierigkeiten beim Verfassen des Skripts mit sich. Zemeckis beschreibt außerdem, dass man mit/in Fortsetzungen meist nur schwer vorhandene Erwartungen erfüllen könne und diese deswegen problematisch seien — auch wenn er damit wohl richtig liegt, bieten die beiden aufeinanderfolgend gedrehten Teile 2 & 3 m.M.n. aber durchaus noch jede Menge Spaß und sind trotz des Abfalles gegenüber dem aus einem Guss wirkenden Teil 1 als (sehr) gelungen zu bezeichnen. Vor allem die Idee des direkten Verwebens der Ereignisse des ersten Films mit denen des zweiten und ein im Wortsinn 'bahnbrechendes' Finale des im "Wilden Westen" spielenden dritten Teils [Leone-Hommagen inklusive] ist (u.a.) sehenswert!
Zemeckis Stammkomponist Alan Silvestri, der seit dem bereits erwähnten
Romancing The Stone
(1984) alle seine Streifen vertont hat, lieferte darüber hinaus die (geforderte) bombastische Filmmusik [vgl.
ZidZ.com
unten], die eigentlich jedem genauso im Ohr liegen dürfte wie die John-Williams-Klassiker zu
Star Wars
oder
Indiana Jones
...
Neben dem üblicherweise interessanten Abschnitt "Triviales" der
IMDb
(
Teil 1
|
Teil 2
|
Teil 3
) bietet die Seite
ZidZ.com
(eines
Cinefacts
-Forummitgliedes) umfassende Hintergrundinformationen zur Trilogie — for whom it may concern ...
Abschließend nimmt der sympathische
Biff-Tannen
-Darsteller Tom Wilson in diesem Video noch den "Preis des Ruhmes" aufs Korn:
Biff

's Question Song
.
"Hello! Hello! Anybody home?! Think, McFly, think ...!"
P.S.: Auch wenn dabei einige Gags über Bord gehen, werden diese drei Filme das nächste Mal wieder auf Deutsch geguckt — Jugenderinnerungen haben auch was für sich.