Serie
[n]:
Game Of Thrones
Om(engl.)U
BD
Staffel 3 — this shit is hot. And it gets even hotter.
1.
|
Giant
Om(engl.)U
BD
(US — 1956 | Regie: George Stevens)
"The legendary epic that's as big as Texas."
Trotz Lauflänge und der fast schon stoischen Erzählweise fand ich diese Familiensaga nie
langweilig. James Deans
Jett Rink
hätte ruhig noch mehr bzw. öfter Einfluss auf alle Beteiligten
nehmen können.
7,5/10
|
From Here To Eternity
Om(engl.)U
BD
(US — 1953 | Regie: Fred Zinnemann)
I just hate to see a good guy get it in the gut.
Okay, Fred Zinnemann zählt für mich jetzt auch zu den Regisseuren, die offenbar nur
hervorragende Filme gemacht haben. Starkes Drehbuch, starke Charaktere und vielleicht noch
stärkere Schauspielerinnen und Schauspieler. Topp.
8,5/10
5.
|
Das Cabinet des Dr. Caligari
(DE — 1920 | Regie: Robert Wiene)
Ich kann mich der Sogkraft & Faszination filmischer Frühwerke einfach nicht entziehen und
dieser expressionistisch ver-rückt-okkulte Stummfilm, wohl ein Schlüsselwerk für die unstreitbar
beste und einflussreichste Dekade deutschen Filmschaffens, bildet absolut keine Ausnahme. Was
freue ich mich auf die kommende Blu-ray der restaurierten Fassung ...
9/10
7.
|
All About Eve
OV
BD
(US — 1950 | Regie: Joseph L. Mankiewicz)
You are in a beehive, pal. Didn't you know? We are all busy little bees, full of stings,
making honey day and night.
Zweitsichtung
. Ein unterhaltsam dämonisches Drama im Fegefeuer der Eitelkeiten des westlichen
Kultur- und Medienbetriebs. Bette Davis regelt.
8/10
8.
|
Spellbound
Om(engl.)U
BD
(US — 1945 | Regie: Alfred Hitchcock)
Mit einem süßen Hauptdarstellerpärchen thrillt sich Sir Alfred psychoanalytisch durch das
traumatisierte Hirn von Gregory Peck. Und Ingrid Bergman steht dabei trotz aller Widrigkeiten
ihre Frau.

7,5/10
9.
|
Rebel Without A Cause
OV
BD
(US — 1955 | Regie: Nicholas Ray)
You're TEARING ME APART!
Zweitsichtung
. Unverstanden (aus Unvermögen oder Desinteresse der Eltern), entwurzelt und
auf der Suche nach Vorbildern. Packendes Adoleszenzdrama mit einem beeindruckenden und
interessanten Hauptdarstellerdreieck.
7,5/10
|
The Man Who Knew Too Much
OV (US — 1956 | Regie: Alfred Hitchcock)
Ihr Charakter inklusive Doris Day selbst tat mir zwar etwas leid, aber ich fand diesen klassischen
Hitchcock-Thriller trotz etwas Länge sehr gut unterhaltsam. Die
Royal-Albert-Hall
-Sequenz
inklusive Bernard Herrmanns einzigem Filmauftritt ist spitze.
7,5/10
10.
|
The Life And Death Of Colonel Blimp
Om(engl.)U
BD
(GB — 1943 | Regie: Michael Powell & Emeric
Pressburger)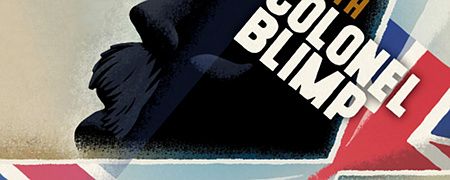 War starts at midnight!
Dieser epische und facettenreiche Blick auf vier Jahrzehnte im Leben eines britischen
Gentlemans und Offiziers der Armee seiner Majestät während der ersten Hälfte des 20. Jahr-
hunderts ist ein absolut fantastisch komponiertes Filmgemälde von Kriege überdauernder Liebe,
Freundschaft, Anstand — und Obsoleszenz. Ein Genuss für alle Sinne ...
8,5/10
|
The Man In The Gray Flannel Suit
OV (US — 1956 | Regie: Nunnally Johnson)
Ein unaufgesetztes Drama so unperfekt und unvorhersehbar wie die Probleme, Sorgen und Nöte,
die einem das Leben vor die Füße wirft.

7,5/10
11.
|
The Nun's Story
OV (US — 1959 | Regie: Fred Zinnemann)
You can cheat your sisters, but you cannot cheat yourself or God.
Leben im Spannungsfeld zwischen Religion & Regeln, dem Kampf mit diesen & den eigenen Idealen.
Ein sehr feiner Film mit einer beeindruckend glaub-
würdigen
Darbietung von Audrey Hepburn.
8/10
|
On The Beach
Om(engl.)U (US — 1959 | Regie: Stanley Kramer)
It's all over now, isn't it?
Das mahnende Dystopiedrama ist ein Kind seiner Zeit, aber deswegen nicht von weniger
bedenkenswerter und erinnerungswürdiger Relevanz. Außerdem gibt es wirklich schöne Momente
mit tollen Darstellern.
7/10
12.
|
Rebecca
Om(engl.)U
BD
(US — 1940 | Regie: Alfred Hitchcock)
Do you think the dead come back and watch the living?

Hitchcocks stilvolles Hollywood-Debüt nach einer Vorlage Daphne du Mauriers ist praktisch
mehrere Filme in einem: Romanze, Mysterythriller, Whodunit-Krimi — mit der durchwobenen
Dauerpräsenz einer Toten. Klasse.
8/10
|
Bad Day At Black Rock
Om(engl.)U (US — 1955 | Regie: John Sturges)
Mies-feiner Ein-Mann-gegen-den-Rest-Thriller am abgelegenen Arsch der US-Welt. Eine Frage
habe ich mir am Ende allerdings gestellt: Warum als einzige Person ausgerechnet die einzige Frau
dran glauben muss ...
I figured the least I could do was give him one day out of my life.
7,5/10
|
The Grass Is Greener
OV (GB — 1960 | Regie: Stanley Donen)

"Ever Seen a Four-Sided Triangle?"
Charmant, clever, kurzweilig und vorzüglich besetzt. Apropos: Bin neuer Deborah-Kerr-Fan.
Nicht unbedingt durch diesen Film, will es an dieser Stelle aber mal gesagt haben.
7/10
13.
|
Days Of Heaven
Om(engl.)U
BD
(US — 1978 | Regie: Terrence Malick)
© 2011

Film Score Monthly
Filmemacherphilosoph Terrence Malicks zweiter Spielfilm ist audiovisuell natürlich, staunenswert,
schön. Die 15-jährige Linda Manz und ihre Voice-Over-Narration passen außerdem perfekt zu
diesem erdigen Stück Arbeiterliebesdrama. Mit einem besseren Drehbuch (und vielleicht jemand
anderem als Richard Gere?) hätte es ein komplettes Meisterwerk sein können.
Nobody's perfect. There was never a perfect person around. You just have
half-angel and half-devil in you.
8/10
|
The Search
OV (CH·US — 1948 | Regie: Fred Zinnemann)
Ich finde, Zinnemann hat die Nachkriegsgeschichte der gegenseitigen Suche von getrennter
Mutter (Nebenrolle) & Kind mit dem Herz am richtigen Fleck umgesetzt — unpathetisch-rührend,
spannend und mit witzigen Momenten. Was er sicherlich auch seinen beiden astreinen
Hauptdarstellern (siehe Bild) zu verdanken hat.
8/10
14.
|
Boom
OV (GB — 1968 | Regie: Joseph Losey)
"Together they devour life!"
Diese Adaptionsextravaganza von Tennessee Williams' Stück
"The Milk Train Doesn't Stop Here
Anymore"
balanciert waghalsig zwischen Kunst, Kitsch und un(?)freiwilliger Komik. Und ich hatte
den Eindruck, die drei großen Namen (Noël Coward in seiner vorletzten Filmrolle) wussten das
auch. Kult oder Kacke ... ich weiß es noch nicht. Eine mögliche nächste Sichtung wird mit Alkohol
verköstigt.
6/10
15.
|
Jane Eyre
Om(engl.)U (US — 1943 | Regie: Robert Stevenson)
Do you think because I'm poor and obscure and plain that I'm soulless and heartless?
Inzwischen habe ich große Lust, den Roman von Charlotte Brontë zu lesen ... die Geschichte ist
einfach absolut faszinierend. Bis dahin ergibt sich für mich mehr oder weniger zwangsläufig nur
ein Vergleich mit der
Fukunaga-Adaption von 2011
bei dem der Film hier wegen der weniger
dimensionalen Titelprotagonistin, der vielleicht nur suboptimalen Besetzung und der etwas
gehetzt wirkenden Erzählweise schlechter abschneidet. Trotzdem ein starker Film mit toller
Kinematographie inkl. Setdesign (und einer sehr jungen Liz Taylor in einer ihrer ersten Rollen).
7/10
18.
|
The Red Shoes
Om(engl.)U
BD
(GB — 1948 | Regie: Michael Powell & Emeric Pressburger)
(...) we had all been told for ten years to go out and die for freedom and democracy,
for this and for that, and now that the war was over, The Red Shoes told us to go out
and die for art.
— Michael Powell, "A Life in Movies"
Im Clinch zwischen zwei egozentrischen Männern entscheidet ihre Leidenschaft das Schicksal
einer Ballerina. Für mich macht in erster Linie die Tanzsequenz diesen Film (basierend auf einem
Märchen von Hans Christian Andersen) zu etwas absolut Herausragendem. Die anderen
Archers
-
Filme, die ich bisher gesehen habe, fand ich in ihrer jeweiligen Gesamtheit aber noch etwas
einzigartiger ... "trotzdem" freue ich mich jetzt schon auf die nächste Sichtung.
7,5/10
|
Nothing Sacred
OV
BD
(US — 1937 | Regie: William A. Wellman)
Kurzweilige, mediensatirische Screwballkomödie mit einem absolut großartigen Hauptdarsteller-
paar: Carole Lombard & Fredric March.
7/10
|
Island Of Lost Souls
Om(engl.)U
BD
(US — 1932 | Regie: Erle C. Kenton)
You made us... things!
Trotz Geschlechterklischees treibt es einem klaustrophobisch-schaurig-schöne Schauer über den
behaarten Rücken. Auch dank der fiesen Darstellung von Charles Laughtons
Dr. Moreau
.
7/10
20.
|
The Misfits
OV
BD
(US — 1961 | Regie: John Huston)
You have the gift for life, Roslyn. The rest of us, we're just looking for a place to
hide and watch it all go by.

Ein bittersüßer Film über einen zufällig zusammengewürfelten Haufen Menschen, die in den
Sackgassen ihrer Leben stehen. Starkes Drehbuch von Arthur Miller und ein starkes Ensemble
von faszinierend unterschiedlichen Schauspieler(type)n.
7,5/10
21.
|
Dumbo
OV
BD
(US — 1941 | Regie: Ben Sharpsteen et al.)
Ein kleiner, sprachloser Außenseiter schlägt nach einigem Leid mit Hilfe eines findigen Managers
schließlich Profit & Ruhm aus dem Grund für sein Außenseiterdasein und alle sind glücklich. Oder
so ähnlich. Highlight: Die Rosa-Elefanten-Sequenz.

6,5/10
|
Grey Gardens
Om(engl.)U (US — 1975 | Regie: Albert & David Maysles, Ellen Hovde, Muffie Meyer)
I haven't got any warts on me!
— That isn't the point, mother darling.
Diese Dokumentation bietet einen voyeuristischen Blick hinter die Fassaden amerikanischer
Geldaristokratie samt ihrem Verfall. Und auf zwei Menschen, Mutter & Tochter, vereinsamt,
stolz, unabhängig, traurig und interessant.
7,5/10
26.
|
The Night Of The Iguana
Om(engl.)U (US — 1964 | Regie: John Huston)
I want to explain something to you ... A man has got just so much in his emotional
bank balance. Mine has run out.
Zum Lachen und zum Weinen. Lebensweisen-, -weisheiten- und Geschlechterclash Tennessee-
Williams-Style. Plus ein Cast zum Niederknien. Göttlich.
8,5/10
Vorhang.