Über Sinn & Unsinn des Goldjungen kann man sich trefflich streiten ... Fakt ist aber, dass der/die Preisträger dadurch (und sei es nur für einen Moment) ins Bewusstsein der Weltöffentlichkeit gerückt werden; und Fakt ist auch, dass derjenige, dem am vergangenen Sonntag im
Kodak Theatre
zu Los Angeles der Ehren-
Oscar
überreicht wurde, dies so verdient hat wie kaum ein Anderer — die Rede ist von Ennio Morricone.
To Ennio Morricone in recognition of his magnificent and multifaceted contributions to the art of film music.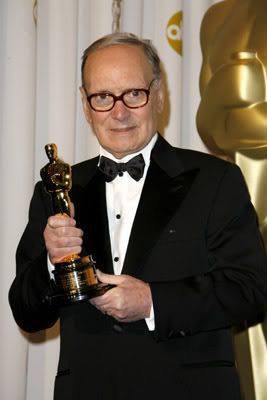 Auf diese Begründung der
AMPAS
zur 79. Verleihung der goldenen Statuette(n) musste der derzeit 78-Jährige (
!
— man beachte das Foto links) warten — fünf Nominierungen inklusive. Die erste davon 1978 für den Terrence Malick Film
Days Of Heaven
... dass der Maestro u.a. seine absolute Hochphase während der '60er- & '70er-Jahre hatte, ist offensichtlich bereits da schon an diversen Leuten vorbeigegangen; dies wiederum bleibt letztlich aber auch nur eine Randnotiz. Morricone selbst rechnete mit nichts mehr und war mit Kunstschaffenden wie Stanley Kubrick oder Alfred Hitchcock diesbezüglich ja auch in guter Gesellschaft.
Wie auch immer man diese Preisverleihung bewerten mag: Ein Makel wurde behoben und Morricone war sichtlich gerührt und stolz ob der Ehre, die ihm zu Recht zuteilwurde. Davon kann man sich
offiziell
bzw.
hier
in aller Vollständigkeit ein Bild machen (falls letztgenannter Link ins Nirwana führt, bitte ich um eine kurze Kommentierung).
Übrigens ist dies nach Alex North 1986 erst der zweite
"Honorary Oscar"
, der in der Sparte Filmmusik vergeben wurde.
Stichwort Vollständigkeit: Obwohl der Römer als relativ sperriger Gesprächspartner gilt, hat
Der Tagesspiegel
in diesem aktuellen
Interview
einen anscheinend gut gelaunten Maestro angetroffen.
... und zur Feier des Tages läuft gerade ein absolut großartiger Score zu einem Film von Sergio Corbucci anno 1970. Hier werden alle bekannten Register gezogen bzw. vereint — ein Traum!