D·E·GB·USA — 2005 | Regie: Sir Ridley Scott (...)
I'm a movie maker ... I'm not a documentarian.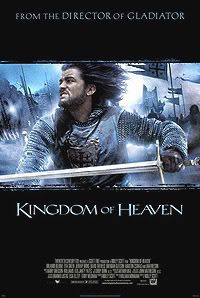 Zugegeben: Ohne die
Weihnachtswichtel-Aktion
des
Cinefacts
-Forums hätte ich diesen Film nach einer Sichtung im letzten Jahr wohl kaum nochmal geguckt — auch wenn er mich seinerzeit durchaus schon faszinierte, stand ein Kauf trotzdem nie zur Diskussion. Inzwischen hat sich meine Haltung geändert (die Kinoschnittfassung habe ich übrigens nie gesehen, und das wird auch so bleiben ...).
Der oben zitierte Satz von Scott aus dem Bonusmaterial der DVD ist so lapidar wie er richtig ist und nimmt den Kontroversen, die der Film auch wegen seiner Thematik ausgelöst hat, einiges an Wind aus den Segeln. Dabei ging es dem Briten in erster Linie überhaupt nicht um den Kampf der Kulturen zwischen Muslimen und Christen. Scott wollte seit geraumer Zeit einen Ritterfilm drehen und stößt bei den Vorbereitungen zu einem anderen
Filmprojekt
auf Drehbuchautor William Monahan. Dieser erweist sich als (historisch versierter) Kenner der
Kreuzzüge
, einer Ära, deren geschichtliche Ausprägungen bis in die heutige Zeit wirken und damit auch Scotts Interesse weckte.
Tripoli
wurde auf Eis gelegt.
Einige Jahre vor Beginn des Dritten Kreuzzuges (unter Führung Richards I. von England) angesiedelt, verfolgt
Kingdom Of Heaven
die Verstrickung des im Film mit seinem Glauben ringenden Balians (einer
historischen Figur
) in die Auseinandersetzung um die Herrschaft Jerusalems Ende des 12. Jahrhunderts.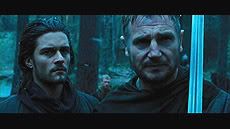 Auch die anderen Hauptcharaktere sowie Schlüsselszenen wie u.a. Schlachten sind bis auf wenige Ausnahmen historisch belegt. Die Verknüpfungen dieser Elemente werden dagegen an einigen Stellen aus dramaturgischen Gründen vernünftigerweise etwas überhöht oder (zeitlich) verzerrt — wie ich finde, in einem akzeptablen und vor allem nachvollziehbaren Rahmen.
In Teilen etwas zu auffällig erschien mir allerdings die Vermittlung der Tatsache, dass es natürlich auf beiden Seiten dieses Kulturgrabenkampfes fanatische/ignorante Kriegstreiber sowie vernünftige/tolerante Personen gibt [deren Einstellung, religiösen Pluralismus und friedliche Koexistenz der Kulturen aus rein humanistischen (und nicht politisch pragmatischen bzw. wirtschaftlich opportunen) Gründen zu vertreten, ist aber mit Sicherheit unter dem Stichwort 'Romantik' bzw. Zugeständnis an das (Blockbuster-/Massen-)Publikum abzubuchen].
Wie dem auch sei —
Kingdom Of Heaven
ist ein wuchtiger und (trotzdem) beeindruckend schön fotografierter Film [es ist Sir Ridley Scott ...], der mich wegen seiner glaubwürdigen Darstellung der Ära und dem zeitgeschichtlichen Bezug absolut fasziniert hat und damit andere "Historienschinken" in den Schatten stellt!
Auch wenn Liam Neeson wie schon in
Star Wars: Episode I - The Phantom Menace
einen viel zu kurzen Auftritt hat, verliert dieser Film glaube ich nichts bei mehrmaligem Wiedersehen ...
"What is Jerusalem worth ...? - Nothing ... Everything!"
Wer sich fragt, warum zwischen dem Sichtungstermin und diesem Blogeintrag neun Tage liegen: Das liegt an dem für dieses '4-Disc-Set' von Scotts "Haus- & Hofdokumentarfilmer" Charles de Lauzirika produzierten Bonusmaterial [sowie dem Audiokommentar des Regisseurs und dem
sehr
zu empfehlenden 'Trivia Track' ...] — was diesbezüglich hier geboten wird, dürfte definitiv als Referenz gelten und lässt mich schon voller Vorfreude auf die kommende
Blade Runner
Veröffentlichung blicken.