USA — 2006 | Regie: M. Night Shyamalan (...)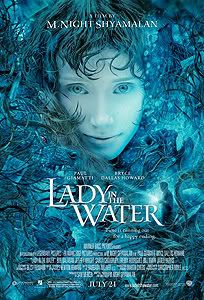 There is no originality left in this world, Mr. Heep.
That is a sad fact I've come to live with.
Obiger Satz stammt aus dem Munde
Harry Fabers
; einer der vielen charakterlich sehr unterschiedlichen Bewohner eines sterilen Mietshauses in Philadelphia/PA (Shyamalans Heimat sowie Dreh- & Handlungsort der meisten seiner Filme). Dass sie alle Teil einer mystischen, märchenhaften Geschichte werden, um der Seenymphe
Story
zu deren Heimreise in ihre
Blaue Welt
zu verhelfen, ahnt zunächst keiner von ihnen. Und ähnlich wie die Figuren im Film, muss sich wohl auch der Zuschauer Schritt für Schritt darauf einlassen, dass
Lady In The Water
der ungewöhnlichste Film in der hervorragenden Reihe ungewöhnlicher Filme Shyamalans ist.
"Do you wish to know your future?"
Die Idee, eine ursprüngliche Gute-Nacht-Geschichte für seine beiden Töchter zu verfilmen, ist neben der Tatsache, dass sich dies nur ein erfolgreicher Filmemacher wie Shyamalan 'leisten' kann, auch mutig —
Das Mädchen aus dem Wasser
schnitt an der Kinokasse und bei Kritikern eher durchwachsen ab.
Wer sich allerdings ein wenig die Fähigkeit bewahrt hat, sich kindesgleich verzaubern zu lassen, wird nicht im Geringsten enttäuscht —
Lady In The Water
bietet neben der fantastischen Story ausgezeichnete Schauspielerleistungen (allen voran Paul Giamatti als gebrochener Hausmeister
Cleveland Heep
) sowie die Shyamalan-typischen Momente fesselnder Spannung & unerwarteter Wendungen; für mich ist der Film mehr als eindeutig auf Augenhöhe mit dem Rest seiner Filmografie.
Dieser DVD liegt in der sehr schicken "Limited Soundtrack-Edition" in Buchform auch die Filmmusik von James Newton Howard bei, der seit
The Sixth Sense
(1999) alle Shyamalan-Filme vertont hat (auch sein kommendes Projekt
The Happening
) — ein wie üblich wunderbarer Score mit schwelgerischen Streicher-/Bläsersektionen und subtilen Klaviermelodien.
Harry Faber
verdingt sich übrigens als Film- und Buchkritiker — der vermeintlich Allwissende übernimmt die Rolle des Unsympath, der seine eigene(n) These(n) [siehe obiges Zitat] ad absurdum führt. Wer diesbezüglich (und aufgrund seines Parts im Film) Shyamalan Arroganz vorwirft, zählt die Erbsen am falschen Ende ...