USA — 1993 | Regie: John Badham (...)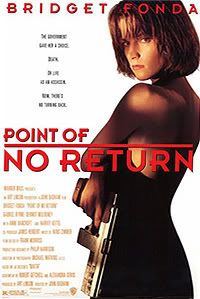 Three down, two to go — der Wichtel ist gemeint ...
The government gave her a choice:
Death or life as an assassin.
Now, there's no turning back.
Die kleine, süße Bridget Fonda mimt in diesem Remake von Luc Bessons
Nikita
die straffällig gewordene Drogenabhängige, deren Resozialisierungsmaßnahme darin besteht, sie zu einer Auftragskillerin der Regierung zu machen — Codename:
Nina
[... Simone, die schickerweise gleich einen Großteil des Soundtracks ausmacht]. Aufpasser/Ausbilder
Bob
(immer wieder gerne gesehen: Gabriel Byrne) muss allerdings zur Kenntnis nehmen, dass sein attraktiver Schützling nicht wirklich zu zähmen ist ...
Trotz guter Besetzung und einer überzeugend spielenden Fonda ist mir die Atmosphäre des Films alles in allem doch zu steril & 'stylish' (typisch für die '90er?), so dass mich das Ganze eher neugierig auf die originäre Umsetzung von Besson macht.
Witzig: Harvey Keitel gibt hier wie auch ein Jahr später in
Pulp Fiction
den 'coolen Cleaner'.