AUS·USA — 2008 | Regie: Clint Eastwood (...)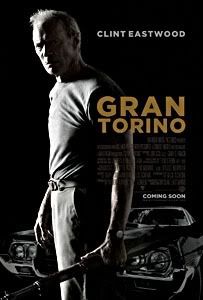 War es Marketingkalkül? Wäre das überhaupt nötig gewesen? Ob nötig oder nicht ...
Gran Torino
ist in Sachen Regie Eastwoods sowohl
kommerziell
als auch "
IMDb
-wertungstechnisch" mit (aktuell) Rang
#77
erfolgreichster Film und trotzdem weiß ich bis dato immer noch nicht, woher das Gerücht stammt, dass dieser Streifen sein letzter Auftritt
vor
der Kamera gewesen sein soll — im Dezember vergangenen Jahres
erklärte er
in jedem Fall noch:
"I don't know. I never think of retirement really. The only reason I ever thought about retiring from the front part of the camera as opposed to the back is sometimes you think, "How many roles are there for someone my age?" I enjoy working. I keep working because I learn something new all the time."
Den letzten Nebensatz hat er dann wohl auch mit seinem hiesigen Protagonisten gemein ...
Walt Kowalski
(Eastwood) erwartet vor allem nach dem Tod seiner Frau endgültig nichts mehr von seinem Leben außer von allem & jedem in Ruhe gelassen zu werden. Der zynisch-reaktionäre und chronisch unzufriedene Koreakriegsveteran verbirgt seine inneren Konflikte tief in sich und stößt sein Umfeld lieber schnell barsch vor den Kopf bevor dies es mit ihm tun kann. Erst durch die Begegnung mit den
ostasiatischen
Nachbarn seines Viertels gelingt es
Kowalski
auf seine alten Tage noch mit sich & seiner Umwelt ins Reine zu kommen.
The thing that haunts a guy is the stuff he wasn't ordered to do.
Beeindruckend, wie Eastwood es einmal mehr schafft, seine parabelartige Geschichte gleichzeitig packend und gefühlvoll (und dabei für meine Begriffe frei von Kitsch und selten belehrend wirkend) auf die Leinwand zu bringen. Ein Drehbuch und Charaktere mit einer klaren Sprache, nur allzu menschlichen Ecken & Kanten sowie einem entspannenden Schuss Ironie sind vielleicht ein paar der Punkte, die diese Gratwanderung möglich und zu einem nachhaltigen und unterhaltsamen Erlebnis machen — zumindest bei diesem Film, in dem es (auch) um Vorurteile, Freundschaft, Vertrauen, Mut und Selbstachtung geht. Dass
Walt Kowalski
wie eine Art Destillat einiger ehemaliger Eastwood-Verkörperungen erscheint und das erlebt, was er erlebt, macht die Sache zusätzlich tragikomisch. Darüber hinaus ist das diesjährige
Interview
, das die
SZ
mit dem Altmeister geführt hat eine echte Empfehlung. Dort wird ebenfalls manches große Wort gelassen ausgesprochen — lesenswert!
Zu guter Letzt gibt es den
finalen Song
von (u.a.) & mit dem im weitesten Sinne jazzenden Engländer Jamie Cullum, der
Gran Torino
mit einer wunderbar melancholischen Note abschließt. Ich finde: Große Klasse. Wie der Film.
© 2008

Warner Bros. Entertainment Inc.