USA — 2009 | Regie: Zack Snyder (...)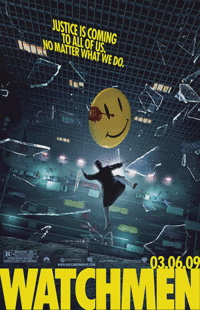 The accumulated filth of all their sex and murder will foam up about their waists and all the whores and politicians will look up and shout "Save Us!" ...
... and I'll whisper "No."
... und zu dieser Verfilmung flüstere ich: Jein. Dazu mehr im übernächsten Absatz.
Tante
Cinefacts
brachte mich zunächst auf den (seinerzeit anstehenden) Film bzw. nach ein wenig Stöbern und einem allgemeinen (aber starken) Neugierig- & Fasziniertsein auf die gleichnamige
Graphic Novel
der Briten
Alan Moore
(Geschichte/Text) und Dave Gibbons (Zeichnungen; mit Kolorist John Higgins); ursprünglich 1986/87 zunächst als 12-teilige Serie und in der Folge zusammengefasst erschienen. Der weltweiten Rezeption dieses quasi postmodern-popkulturellen Referenzwerkes nach zu urteilen, war es irgendwie nicht das Schlechteste, dass das Ganze meine erste Berührung mit diesem Medium war — ein
phänomenales
& anregend-neuartiges Leseerlebnis, das nicht nur das Comic-Superheldentum auf diversen Ebenen auseinandernimmt.
Am Abend nach Filmschluss war ich etwas ernüchtert bis leicht enttäuscht; (vielleicht zu) genial nah und doch vorbei an der Vorlage, für deren filmische Realisierung über die Jahre Namen wie Gilliam, Greengrass oder Aronofsky im Gespräch waren. Snyders
Watchmen
ist auf den ersten Blick keine Adaption, Interpretation (auch wenn eine andere & sogar funktionierende Auflösung gewählt wurde) sondern eine Art "Panel für Panel"-Abfilmung, der die packende & bedrohliche Grundstimmung, die ich während der Lektüre verspürte, (zumindest bei dieser ersten Sichtung) zum Opfer fällt — in diesem
SPON

-Interview
gibt der Regisseur ein paar seiner Ansichten zum Besten.
Rückblickend und mit etwas Abstand betrachtet war es dennoch verdammt faszinierend, Moores thematisch & strukturell komplexen, 1985 überwiegend in New York angesiedelten "Superhelden-Anti-Comic" auf einer Leinwand zu sehen. Und trotz einer wie ich finde hier & da mangelnden Subtilität, teils schwachen Charakteren (was an der "Kürze" bzw. Fülle der Kinoschnittfassung liegen mag) sowie manchem Schauspiel hätte ich inzwischen nicht schlecht Lust, ihn mir noch ein zweites Mal anzugucken. Das werde ich mir aber wahrscheinlich bis zum Erscheinen eines bereits feststehenden, merklich erweiterten
Director's Cuts
aufheben ... wenn es Snyder dort besser gelingen sollte, das depressive Gefühl der Vorlage einer Welt vor dem Exitus zu transportieren, dann dürfte es sich für meine Begriffe aufgrund der jetzt schon formell-äußerlich (nahezu) perfekten Umsetzung um eine beeindruckende Verfilmung eines (nach wie vor) unverfilmbaren Stoffes handeln.
Moore, der wegen diverser "Verschandelungen" seiner Comicwerke (
From Hell
,
The League Of Extraordinary Gentlemen
oder
V For Vendetta
) auf Hollywood im Allgemeinen eher nicht gut zu sprechen ist, meinte irgendwo:
"I'm never going to watch this fucking thing."
— Wurst ... ich freue mich auf den
DC
. Und bis dahin (und darüber hinaus) auf hoffentlich noch einige "Lesungen" ... für diesbezügliches Mehrwissen gibt es
hier
noch ein wenig
'geek stuff'
. In diesem Sinne:
Quis custodiet
ipsos custodes?