USA — 2009 | Regie: Ron Howard (...)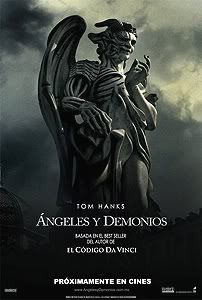 Pfingsttrip in die alte Heimat, Kinobesuch in (der römisch-katholischen Diözese) Fulda. Mangels großer Alternativen ging's mit
Dan Brown
s Harvard-Symbologen
Robert Langdon
(Hanks) auf Schnitzeljagd durch Rom bzw. den Vatikan. Weil der eigentliche Debütroman (
"Illuminati"
— so der deutsche Titel) dieses Charakters in den Augen des Regisseurs weniger bekannt und "kontrovers" ist als sein (Roman-)Nachfolger, wurde erst jetzt bzw. eben nach dem
"Sakrileg"
verfilmt. Das Knacken des
"Da Vinci Codes"
fand ich im direkten Vergleich (also relativ gesehen) allerdings sowohl spannender und "überraschender" als auch innerhalb des Brown'schen Universums reizvoller, in dem der Autor auf mehr oder weniger interessante und opportune Art & Weise geschichtliche Fakten mit verschwörungstheoretischer Fiktion kollidieren lässt. Inwieweit die Bücher mehr sind als (mystifizierende) Unterhaltung kann und werde ich auch nicht beurteilen — Howards Adaptionen bieten in jedem Fall kaum einen Mehrwert.
Angels & Demons
ist solide inszeniertes Ausstattungskino, das mäßig Spannung aus einem vorgegebenen Countdown bezieht, der den Charakteren (und Schauspielern) gleichzeitig wenig bis keinen Freiraum und sie wie Touristen marionettenartig durch Rom turnen lässt. Das alles geschieht, um den Vatikan vor seiner Zerstörung zu bewahren und letztlich den Gegensatz zwischen Glaube & Wissenschaft als unzeitgemäß zu thematisieren. Hehre Ziele für ein Unterfangen dieser Kategorie ... die römische Kurie hatte jedenfalls kein Interesse, dem Filmteam Dreherlaubnis auf ihrem Grund & Boden zu erteilen.
Am 15. September diesen Jahres erscheint übrigens der dritte Brown-/
Langdon
-Roman.
"The Lost Symbol"
wird in Washington, D.C. und mit der Freimaurerloge spielen. Die filmische Umsetzung steht bereits in den
Startlöchern
.
Notabene: Wer vom Prozedere der Papstwahl bzw. Blick hinter die Mauern des Vatikans fasziniert ist, dem sei zumindest in spielfilmischer Hinsicht
The Shoes Of The Fisherman
eher ans Herz gelegt.