Serien
mäßige Ausstattung:
Derzeit steht
The West Wing
ganz hoch im Kurs — Staffeln 1 & 2 sind durch, die dritte läuft. Die Dialoglastigkeit respektive -geschwindigkeit machen die Serie in Verbindung mit dem politischen Vokabular "English wise" zwar zum Schwierigsten, was mir bisher untergekommen ist, dafür wird man mit einem geschliffenen Blick hinter die Kulissen der Arbeit des engsten Mitarbeiterzirkels des (hier demokratischen)
POTUS
und nicht zuletzt großen aufrichtigen Momenten entlohnt; Chapeau Aaron Sorkin.
Die erste (und einzige) Staffel von
Invasion
bietet einen interessanten verschwörungstheoretischen
"Body Snatchers"
-Patchworkfamiliendrama-Plot, der vor allem im mittleren Drittel richtig an Fahrt aufnahm. Insgesamt erschien mir der durchgängige Handlungsfaden etwas zu sehr in die Länge gezogen. Die Sendepolitik dürfte neben der unglücklichen Verbindung der Serienausgangssituation und Hurrikan
Katrina
in 2005 wohl auch mit dafür verantwortlich sein, dass es keine Fortsetzung gab
...
Außerdem gab's in unregelmäßigen Abständen Folgen der ersten Staffel von
Star Trek TOS
auf
BD
bzw.
Seinfeld
[aktuell ja auch auf
Comedy Central
laufend] sowie vereinzelt
King Of The Hill
,
My Family
und
What I Like About You
.
Mai 2010:
1.| Faccia A Faccia* (ES·IT — 1967 | Regie: Sergio Sollima)
2.| Toki O Kakeru Shôjo (JP — 2006 | Regie: Mamoru Hosoda)
Nach dem 10. April zum zweiten Mal angeguckt.
| Scener Ur Ett Äktenskap (SE — 1973 | Regie: Ingmar Bergman)
| Secrets & Lies (FR·GB — 1996 | Regie: Mike Leigh)
7.| The Apartment (US — 1960 | Regie: Billy Wilder)
8.| The Children's Hour (US — 1961 | Regie: William Wyler)
9.| The Outlaw Josey Wales (US — 1976 | Regie: Clint Eastwood)
| Silkwood OV (US — 1983 | Regie: Mike Nichols)
11.| 2 Ou 3 Choses Que Je Sais D'Elle (FR — 1967 | Regie: Jean-Luc Godard)
13.| Pale Rider (US — 1985 | Regie: Clint Eastwood)
The Man comes around — Johannes, Offb 6,8: "And I looked and behold: A pale horse. And his
name, that sat on him, was Death. And Hell followed with him."
16.| Tillsammans (DK·IT·SE — 2000 | Regie: Lukas Moodysson)
Juni 2010:
5.| Kumo No Mukô, Yakusoku No Basho (JP — 2004 | Regie: Makoto Shinkai)
The Place Promised In Our Early Days ...
29.| Taking Woodstock BD (US — 2009 | Regie: Ang Lee)
Juli 2010:
5.| Praxis Dr. Hasenbein (DE — 1997 | Regie: Helge Schneider)
8.| Tanguy (FR — 2001 | Regie: Étienne Chatiliez)
9.| 00 Schneider - Jagd auf Nihil Baxter (DE — 1994 | Regie: Helge Schneider)
Nicht nur der E-Type und das Orgelgeschmeiß hier zeugen von ausgeprägtem Stil und Klasse.
| Hannibal Rising (CZ·FR·GB·IT — 2007 | Regie: Peter Webber)
12.| Les Vacances De Monsieur Hulot (FR — 1953 | Regie: Jacques Tati)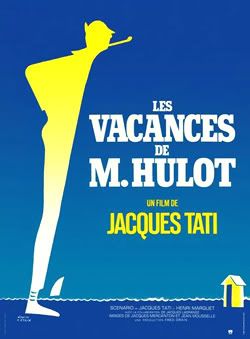 Wie bemerkte einst Loriot: "Drei Dinge braucht der Mann — Feuer, Pfeife, Stanwell." Zeit wurd's:
Meine erste Begegnung mit Tatis Slapstick-Alter-Ego Monsieur Hulot. Urlaubsstimmung satt: Im
bretonischen Badeort Saint-Marc-sur-Mer werden schreitvogelgleich & zielsicher Zeitgenossen
und Fettnäpfe aufs Korn genommen. Große Klasse, was Tati da abliefert (gleiches gilt auch für
das obige Plakatdesign von Pierre Étaix). Und unvergänglich gut wie Chaplin oder Laurel & Hardy.
14.| Jazzclub - Der frühe Vogel fängt den Wurm. (DE — 2004 | Regie: Helge Schneider)
16.| Drag Me To Hell BD (US — 2009 | Regie: Sam Raimi)
17.| White Oleander (DE·US — 2002 | Regie: Peter Kosminsky)
| The Heart Is Deceitful Above All Things (FR·GB·JP·US — 2004 | Regie: Asia Argento)
Bibelzitat, die Zweite — Jeremia 17,9: "Arglistig ohnegleichen ist das Herz und unverbesserlich. /
Wer kann es ergründen?"
18.| Batman Begins OV BD (GB·US — 2005 | Regie: Christopher Nolan)
| The Virgin Suicides (US — 1999 | Regie: Sofia Coppola)
| Around The Bend (US — 2004 | Regie: Jordan Roberts)
19.| Milk BD (US — 2008 | Regie: Gus Van Sant)
20.| Shaun Of The Dead BD (FR·GB·US — 2004 | Regie: Edgar Wright)
21.| Angst essen Seele auf (DE — 1974 | Regie: Rainer Werner Fassbinder)
23.| Varjoja Paratiisissa (FI — 1986 | Regie: Aki Kaurismäki)
| Ariel (FI — 1988 | Regie: Aki Kaurismäki)
| Tulitikkutehtaan Tyttö (FI·SE — 1990 | Regie: Aki Kaurismäki)
Schatten im Paradies, Ariel, Das Mädchen aus der Streichholzfabrik — die "Proletarische
Trilogie". Wortkarg, zutiefst menschlich und absolut sehenswert.
24.| Marie Antoinette (FR·JP·US — 2006 | Regie: Sofia Coppola)
25.| Sommer vorm Balkon (DE — 2005 | Regie: Andreas Dresen)
| Orange County (US — 2002 | Regie: Jake Kasdan)
31.| Das Leben ist eine Baustelle. (DE — 1997 | Regie: Wolfgang Becker)