US — 2010 | Regie: David Fincher (...)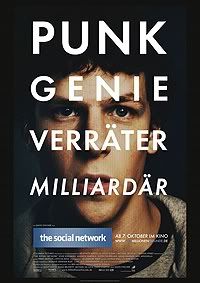 David Fincher, der wohl schon zur Gruppe der fähigsten Regisseure unserer Zeit zählen dürfte und Aaron Sorkin, der mich vor allem als Schöpfer & Drehbuchautor der großartig hintergründigen Politserie
The West Wing
beeindruckte, tun sich für einen Film über
Facebook
zusammen ... aufgrund meiner Meinung über die beiden Talente gehörte der eigentlich ins Pflichtprogramm, wenn ich mir auch erst mal nur schwer vorstellen konnte, was mich inhaltlich daran interessieren könnte. Persönliches Desinteresse kann allerdings nicht darüber hinwegtäuschen, dass sich die mit nach eigenen Angaben seit Juli dieses Jahres einer halben Milliarde Benutzerkonten ausgestattete
Web-2.0
-Plattform im
WWW
durchgesetzt hat. Grund genug für einen Streifen über die Entstehung und Macher eines Phänomens, bei dem Menschen bereitwillig unter anderem Privates & Persönliches einer breiten Internet-Öffentlichkeit zugänglich machen ...? Definitiv ja.
Das soziale Netzwerk
beschäftigt sich mit den "offline"-Beweg- & Hintergründen, die in Rückblenden aus zwei eidesstattlichen Vernehmungen heraus beleuchtet werden, auf denen der Film neben dem Buch
"Milliardär per Zufall (...)"
von Ben Mezrich basiert. Gewünscht hätte ich mir (viel) mehr zu dem angesprochenen "online"-Phänomen. So ist das Ganze im Wesentlichen ein tragisch-flottes Sorkin-Portrait des einsamen IT-Nerds und
Facebook
-Gründers Mark Zuckerberg, seiner (Mit-)Streiter und einer geldwerten Erfindung, deren
New-Economy
-Erfolg aus Spaß Ernst werden sowie die Charaktere hinter den Beteiligten erkennen lässt.
"Fundamentally, you could tell the same story about the invention of a really good toaster."
, so Sorkin in dem lesenswerten
Artikel
des
New York Magazines
in dem auch seine skeptische Zurückhaltung bezüglich des Internets und dessen moderner Kommunikationsmöglichkeiten deutlich wird. Auf der Basis konnten meine Erwartungen also gar nicht erfüllt werden. Handwerklich ist das vom ersten bis zum letzten Frame in allen Belangen feinstes Kino. Fincher ist da schlicht eine Bank. Die Kollaboration beim Soundtrack mit Neun-Zoll-Nägel-Mann Trent Reznor samt Kollege Atticus Ross unterstützt perfekt — einen 5-Stücke-Einblick gibt's
hier
zum freien Herunterladen. Auf die Zweitsichtung dieses allgemein hochgelobten Films über die iGeneration, der mir leider nicht so viel Neues erzählt hat wie ich erwartete, freu' ich mich trotzdem schon.