GB·US — 2010 | Regie: Christopher Nolan (...)
© 2007

EMI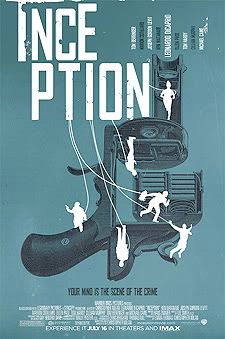 So. Lang ist's her mit den beiden Sichtungen. Zu lang. Folgende Sätze hatte ich seinerzeit schon mal in den Beitrag hier gepinnt, dann aber nicht weitergeschrieben:
"Ein solcher Film ist mir bisher noch nicht untergekommen. Pure Faszination nach der ersten Sichtung, zwiespältige Ernüchterung nach der zweiten."
Ich bin jetzt schon neugierig auf die Drittsichtung ... der Reihe nach: Ein anderer Film, der mich zuletzt auf ähnliche Weise begeisterte, war
The Matrix
. Schnitt zu
Inception
: Kopfkino im Wortsinn, das ich irgendwie unbedingt noch mal sehen musste. Danach bzw. schon währenddessen machte sich leichte Enttäuschung breit. Nix mit Wiederholung des ursprünglichen Erlebnisses (im Unterschied zu
The Matrix
).
I guess I thought the dream-space would be all about the visual, but it's more about the feeling.
... und genau daran fehlte es mir. Am Gefühl, den Emotionen. Die Liaison
Cobb
/
Mal
/Kids hat mich menschlich, dramatisch so gut wie gar nicht beeindruckt und ich behaupte, den Schauspielern ist diesbezüglich kein Vorwurf zu machen. Wenn ich unter anderem überlege:
Bruce Wayne
/
Rachel
...? Über Nolans Fähigkeit der Darstellung überzeugender Zwischenmenschlichkeit könnte man vielleicht noch etwas weiter diskutieren. Wie dem auch sei, technisch, visuell, allgemein handwerklich ist das wie gewohnt brillant, ein Genuss! Nolans Mainstream-tauglich zubereitetes Opus magnum in Sachen Mindfuck, auf dessen "Entschlüsselung" man sicherlich abgehen kann (visuelle Beispiele:
*klick*
oder
*klick*
). Was ist Traum, was Realität. Welche Rolle spielt der Unterschied? Und wäre das alles mit einer gelungenen emotional-involvierenden Seite nicht noch interessanter? Drittsichtung, ich komme ...