US — 2011 | Regie: Terrence Malick (...)
Weiße Flecken auf der
an den Rändern ausgefransten Karte des eigenen Wissens, der
eigenen Erfahrungen, des eigenen Lebens. Dorthin führt einen Terrence Malicks fünfter
Spielfilm. Teils unbekanntes, teils verschüttetes Territorium, weit draußen,
tief in einem. Ich weiß,
dass ich nichts (oder nur wenig darüber) weiß. Das kann auch ziemlich
erschreckend sein. Der Streifen und/oder Malick sei langweilig, peinlich, prätentiös,
größenwahnsinnig, liest man dann. Erschreckend finde ich gerade, wie schwer es mir fällt,
meine Eindrücke zu ordnen und wenigstens halbwegs treffend zu formulieren.
Weit draußen, tief in einem
... dieses ringend Gegensätzliche, Dualistische zieht sich durch den gesamten Film. Ein
Spannungsfeld, in dem sich nicht nur die handelnden Personen bewegen; Erwachsene, Kinder, Vater, Mutter, Söhne. Der Weg der Natur, der Weg der Gnade; Materialität, Spiritualität; Verantwortung, Unschuld; Makro- & Mikrokosmos; Äonen & Augenblicke ... die thematische Bandbreite und Komplexität & die impressionistische Schlichtheit und Leichtigkeit der Inszenierung (Kamera, Schnitt,
Musik
) — alles fließt. Ich fand das tief bewegend und unglaublich beeindruckend. Genauso wie die Darstellerleistungen, allen voran die der Jungs. Auch wenn ich nur
Oberflächliches über seine Biographie weiß, das lange gereifte Projekt dürfte das bisher
persönlichste des studierten Philosophen Malick sein. Ein Meisterwerk. Episch & intim.
Ich freue mich auf die Blu-ray. Gerne auch in einer
Langfassung
.
[Anklicken für HQ]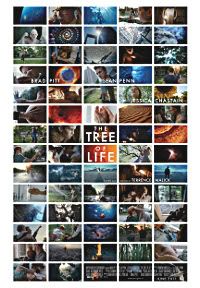 The nuns taught us there were two ways through life — the way of nature and the way of grace. You have to choose which one you'll follow.
Nachtrag — 30. Juli 2011
: Stichwort
Gegensätzliches
. 'Ne ganz andere[, fundierte] Meinung: Der Film ist ein
"hyper­reaktio­näres Manifest"
. Lesenswert (ernst). Das wollte Malick uns also sagen (unernst).