NO·SE·US — 2011 | Regie: David Fincher (...)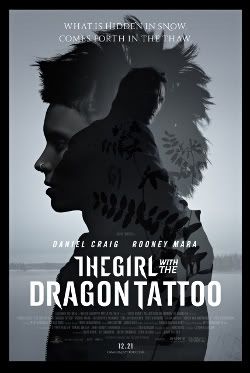 Meine erste Berührung mit dem Stieg-Larsson-Hype erfolgte durch meine belesene Freundin. Die lesefaule Sau, die ich bin, habe ich trotz aller Empfehlungen zuerst
die drei schwedischen Adaptionen
gesehen bis ich schließlich Ende 2010 zu den drei Büchern (
topp ...!
) griff und Anfang 2011 im
ZDF
die verlängerten TV-Schnittfassungen liefen. Ein knappes Jahr später also Hollywood mit seiner Version - kein Remake - unter der Regie von Großmeister Fincher. So weit die einleitenden Sätzchen, die ich damals noch halbwegs zeitnah nach der Kinosichtung entwurfsweise in das Blog gepackt hatte. Inzwischen ist Midsommar passé, genauso wie detailiertere Erinnerungen an das Projekt nach
The Social Network
. Deshalb ohne großes Rumgeschwafel: Mir haben die (ich nenne sie jetzt mal so) Originaladaptionen
schlicht
besser gefallen; stimmiger, natürlicher, (nord-)europäischer. Auch schauspielerisch. Vielleicht liegt's an der Erstprägung. Aber: Im Umkehrschluss heißt das nicht, dass ich die amerikanische Variante schlecht fand, im Gegenteil. Wie angedeutet ist das eine zweite, eigenständige Adaption der Vorlage mit stellenweise anderen Gewichtungen. Mangels Lust, mir jetzt hier was aus den Fingern zu saugen, schreibe ich als Fanboy, der ich bin: Den Film, der mir von ihm nicht gefällt, muss Fincher erst noch drehen (die Ausnahme, die die Regel bestätigt ist unter Umständen
Benjamin Button
). Durchweg eine gediegene Produktion & Stimmung, die unter anderem auch (wieder) durch einen progressiven Soundtrack von Reznor/Ross unterstützt wird — höre oben. Da gibt's viel Gutes, auf das ich mich bei der Zweitsichtung freue. Die
Blu-ray
-Disc steht in jedem Fall schon im Regal (meiner Freundin). Eventuell dann mal
mehr
.
P.S.: Trotz
dieses Artikels
vom Januar bin ich noch nicht so richtig überzeugt, wie bzw. ob es mit
The Girl Who Played With Fire
&
The Girl Who Kicked The Hornets' Nest
weitergeht
...
?