Neben der Tatsache, dass ich das zweite Quartal zum Lesen genutzt habe (u.a. die sieben Bände der
"Harry Potter"
-Reihe im Original ... es war
groß
artig!), hat sich vor allem was an der
Serien
front getan:
24
und
Lost
sind "endlich" abgeschlossen und beide werden sicherlich weitere Male geguckt, denn der Unterhaltungsfaktor war bzw. ist hoch. Den einen oder anderen Kritikpunkt werde ich jetzt hier übergehen, um die Sache kurz zu belassen.
Keine Kritikpunkte habe ich zur britischen TV-Wiederbelebung der Fälle des Meisterdetektivs
Sherlock
Holmes
. Staffel 1 ist durch, die erste (von drei je 90-minütigen) Episoden der Staffel 2 auch. Ich finde, dort stimmt so ziemlich alles. Bisherige Begeisterung: (Sehr) hoch.
Alle Serien gab's auf
BD
.
April 2012
:
Ø. Siehe oben ...
Mai 2012
:
18.
|
The Italian Job
BD
(GB — 1969 | Regie: Peter Collinson)
Ich würde sagen:
Get a Bloomin' Move on!
Augenzwinkernder Britenspaß mit einer (für mich)
Entdeckung: Sir Noël Coward. Besser spät als nie.
Juni 2012
:
3.
|
Deliverance
OV
BD
(US — 1972 | Regie: John Boorman)
Tja, ich möchte mir noch die Extras angucken. Und dann hätte dieser (natur-)gewaltige Film auch
einen Einzelbeitrag verdient. Ein mitreißender Klassiker, der an die Nieren geht.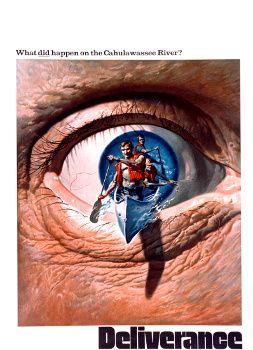 | Star Wars OV BD (US — 1977 | Regie: George Lucas)
Ich glaube erstmalig auf Englisch geguckt ... "erstaunlich" gut, dafür dass das einer dieser
Jugendfilme ist, deren Synchronisation man so verinnerlicht hat, dass man sich an die Original-
stimmen erst mal gewöhnen muss. Sir Alec Guinness ist so oder so über alles erhaben. "... Not as
clumsy or random as a blaster — an elegant weapon for a more civilized age."
8.| The 39 Steps (GB — 1935 | Regie: Alfred Hitchcock)
Wie schreibt Michael Wilmington: "(...) this is the movie in which Hitchcock became "Hitchcock"—
and for which he earned the reputation which he never relinquished as "The Master of Suspense."
Akzeptiert! Noch was: Ziemlich neue Seite passenden Bezugs des BFI: 39 Steps to Hitchcock ...
23.| X-Men: First Class OV BD (US — 2011 | Regie: Matthew Vaughn)
Okay, ich weiß zwar nicht genau was, aber ich hatte mir davon doch einiges mehr versprochen.
McAvoy und Fassbender sind aber 1A. Genauso wie Kevin Bacons Sprachtalent — Rehschpeckt!
Ansonsten maue Hochglanzunterhaltung.
24.| Sleuth OV (GB·US — 1972 | Regie: Joseph L. Mankiewicz)
Hierzu fehlen mir fast die Worte. Überragend ist eventuell ein Anfang — in jeglicher Hinsicht.
Dieses hochfaszinierende Kammerspiel der zwei Sirs Laurence Olivier & Michael Caine ist Joseph
L. Mankiewiczs letzter Film, das Drehbuch (basierend auf seinem Theaterstück) stammt von
Anthony Schaffer. Große Namen und ein absoluter Toppfilm.
29.| Zombieland BD (US — 2009 | Regie: Ruben Fleischer)
Gepflegtes Kurzweilspiel, das ganz gut anfängt, um dann ganz gut abzuflachen. Verbucht unter
"gesehen" — beim nächsten Mal schaue ich mir mit Vorfreude dann doch lieber wieder Shaun Of
The Dead an.
Damit ist dieser recht Sir-lastige Beitrag zu
Ende.