GB·US — 2012 | Regie: Christopher Nolan (...)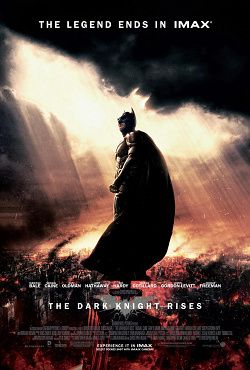 Ein weiterer, verspäteter Beitrag. Und es folgen noch einige.
Das war's dann also.
The Legend Ends
... Fledermann ward nicht mehr im Nolan-Universum (dafür fliegt bald der
Mann aus Stahl
). Der flapsige Einstieg zeigt schon, dass mich der letzte Teil dieser
Batman
-Trilogie jetzt nicht über Gebühr aus den Latschen gehauen hat. Einerseits kein Wunder nach dem für mich vor allem wegen des genialischen Antagonisten und dessen Verkörperung durch Heath Ledger starken Mittelstück
The Dark Knight
. Andererseits lassen mich die Hochglanzprodukte des "Blockbuster-Auteurs" aus London inzwischen doch eher kalt zurück. [Zwischenbemerkung: Sein Spielfimdebut
Following
immer noch nicht gesehen, sind aktuell
Memento
& vor allem
The Prestige
meine Lieblingsfilme von ihm.] So miesepeterig wie es klingt, ist es dann natürlich auch nicht, denn wenn man sich während der Filmlaufzeit gut bis sehr gut unterhalten fühlt, ist das ja was — herausragende Filme tun aber wohl mehr ...
Keine Ahnung ob's an der Kinotechnik vor Ort lag, aber ich hatte doch arge Probleme, den Ansagen des maskierten Bösewichts dieses Films zu folgen (bei den Trailern hatte ich keine Verständnisschwierigkeiten).
Bane
(Tom Hardy) ist für mich auch gleichzeitig das Sehenswerteste an
TDKR
. Eine Legendenbildung funktioniert eben dann am effektivsten, wenn der Widersacher übermächtig erscheint. Seinen Charakter empfand ich in jedem Fall interessanter als den des gefallenen & wieder auferstehenden Helden. Erst recht bei latenter Leidenschaftslosigkeit des Letztgenannten ...
the legends ends
... folgerichtig und vorhersehbar ambiguos. Heimkinosichtung bitte gerne.