D·E·I — 1967 | Regie: Giuliano Montaldo (...)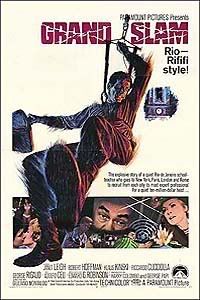 Die Blaupause der sogenannten Heist-Filme,
Du Rififi Chez Les Hommes
a.k.a.
Rififi
von 1955, habe ich bisher noch nicht gesehen, aber auch diese italienisch-spanisch-deutsche Koproduktion hier zählt wohl zu den besseren Vertretern dieses Genres.
Men with nerves of steel, each an expert in his own field, are brought together to create a team that will stop at nothing to crack the most carefully guarded vault in the world.
Dieser Satz aus dem sehr ausführlichen
Trailer
fasst den vordergründigen Plot im Grunde recht treffend zusammen — dass der eigentliche Bruch vor dem Hintergrund des Karnevals in Rio de Janeiro stattfindet, während des Films in Echtzeit inszeniert wird und dies nervenzerreißend miteinander verschnitten ist, läßt das Ganze wirklich zu einem besonderen Filmerlebnis werden!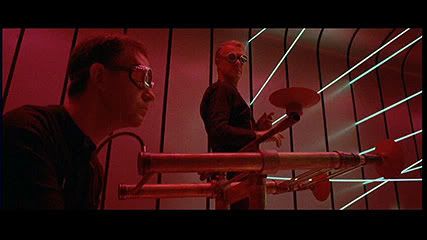 Dazu trägt natürlich auch das umwerfende '60er-Jahre-Flair bei, eine hervorragende Besetzung (u.a. Edward G. Robinson, Janet Leigh, Klaus Kinski und Adolfo Celi) sowie ein Filmende, das sich gewaschen hat ...
Und wie bei jedem ordentlichen Film gibt es außerdem einen klasse Soundtrack — hier aus der Feder des (m.M.n.) unbestrittenen Meisters dieses Metiers: Ennio Morricone.
... der im Übrigen auch gerade bei mir läuft [Doppelveröffentlichung zusammen mit
Menage All'Italiana
von 1965] — alles in allem eine großartige, swingende '60s-Scheibe und der Auftakt mehrerer Kollaborationen von Morricone mit Regisseur Montaldo (u.a.
Sacco E Vanzetti
)!