USA — 2006 | Regie: Darren Aronofsky (...)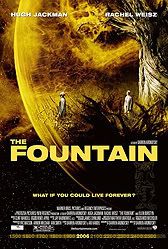 "Our bodies are prisons for our souls; all flesh decays, death turns all to ash and thus, death frees every soul."
Seit November 2005 bzw.
diesem Teaser
musste man auf den dritten Film von Darren Aronofsky warten — und aufgrund der in Deutschland mageren Verteilung von Kopien dieses nicht massentauglichen Werkes konnte man sich glücklich schätzen, wenn es in seiner Stadt überhaupt lief.
Als die ersten Kritiken auftauchten wurde eines deutlich: der Film spaltet. Neben unterirdischen Verrissen gab es überschwängliche Vergleiche mit Kubrick bzw.
2001: A Space Odyssey
. Ich tue mich grundsätzlich schwer mit solchen Vergleichen, denn jedes Stück Kunst sollte zunächst mal für sich stehen und bewertet werden — und davon abgesehen wird meiner Meinung nach erst die Zeit zeigen, ob der Film einem obigen Vergleich standhält.
Spirituell ... Existenziell ... das waren die Worte, die mir in den Sinn kamen, als mich ein Freund um meinen ersten Eindruck bat.
Im Zentrum der Handlung: der besessene/größenwahnsinnige Kampf des Protagonisten (Hugh Jackman), den Tod zu besiegen — der liebevolle/positive Versuch der Protagonistin (Rachel Weisz), den Tod als Teil des Lebens und einer Erlösung zu begreifen. Beeindruckende Bilder und eine meditative (dadurch [?] m.M.n. relativ unauffällige) Filmmusik von Aronofskys Dauerkomponist Clint Mansell geben einem Zeit zum Nachdenken.
So klar einem nach der ersten Sichtung ist, dass man irgendwie nur einen Teil der (sicherlich an einigen Stellen [zu?] dick aufgetragenen) Bildsprache und Metaphorik Aronofskys [der Bartträger links im oberen Bild] erfassen konnte, so klar ist einem auch, dass man einen Film gesehen hat, der mit jeder weiteren Sichtung nichts von seiner Komplexität & Bedeutung einbüßen wird, sondern im Gegenteil: nur gewinnt — ein handlungstechnisch hervorragend verwobenes Triptychon aus Liebe, Tod, ewigem Leben.
Keine Ahnung inwieweit sich meine Meinung im Verlaufe der Zeit noch ändern wird, aber ich lege mich jetzt fest: ein (ganz) großer Film.
"They planted a seed over his grave. The seed became a tree. (...) He said: Death was his father's road to awe."