USA — 1979 | Regie: Francis Ford Coppola (...)
Es beginnt mit
"The End"
von
The Doors
— was folgt ist ein immer surreal werdender Trip ins Herz der Dunkelheit; ins Herz & Hirn von Captain
Willard
(Martin Sheen) ... und der Zielperson seines geheimen Tötungsauftrages: Colonel
Walter E. Kurtz
(Brando).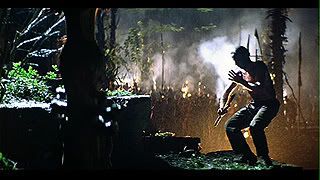 "I don't know whether I am an animal or a god."
Die Reise auf dem Nung Fluß während des Vietnamkriegs verläuft stromaufwärts, gegen den Strom, gegen die Vernunft und führt unausweislich zu
Kurtz
, der sich im Grenzgebiet Kambodscha/Vietnam sein privates Reich der Willkür geschaffen hat und völlig außer Kontrolle geraten ist — ein Refugium des Horrors.
Willards
Mission und die Erlebnisse auf dem Weg zum Ziel machen eines deutlich: Das amerikanische Militär ist ohnmächtig, der Krieg sinnlos, die Soldaten überfordert und in diesem Teil der Welt orientierungslos.
Kurtz
hat das schon lange erkannt und verabscheut die Lügen und Heuchelei, die trotz der Aussichtslosigkeit von seiner Regierung verbreitet werden — als einst hochambitionierter Offizier hat er damit abgeschlossen und sich völlig entfremdet ... vor allem von sich selbst.
Basierend auf dem Joseph Conrad Roman "
Heart Of Darkness
" beschreiben Coppola und Drehbuchautor John Milius (
Jeremiah Johnson; Conan The Barbarian
) die Schrecken des Krieges in diesem Film für mich so eindrucksvoll und subtil wie in kaum einem anderen (ähnlich beeindruckt ließen mich in dieser Hinsicht nur noch
The Deer Hunter
und
The Thin Red Line
zurück). Aber
Apocalypse Now (Redux)
geht über das Genre Kriegsfilm hinaus — es ist ein Psychogramm, es geht um Moral und Ethik, um Verantwortung und Geschichte.
Die (legendäre) Dokumentation
Hearts Of Darkness: A Filmmaker's Apocalypse
über den teils haarsträubenden Dreh auf den Philippinen habe ich (bisher) noch nicht gesehen, aber auch ohne bleibt deutlich, was Coppola hier geschaffen hat: Ein absolutes Meisterwerk, das neben dem Drehbuch auch durch seine bizarre Fotografie und den psychedelischen Soundtrack einen unglaublichen Eindruck hinterlässt.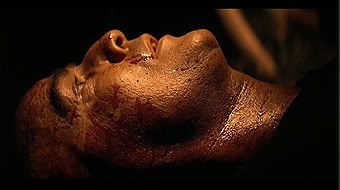 "The horror ..."
As long as our officers and troops perform tours of duty limited to one year, they will remain dilletantes in war and tourists in Vietnam. As long as cold beer, hot food, rock and roll and all the other amenities remain the expected norm, our conduct of the war will gain only impotence. The wholesale and indiscriminate use of firepower will only increase the effectiveness of the enemy and strenghten their resolve to prove the superiority of an agrarian culture against the world's greatest technocracy ...

... The central tragedy of our effort in this conflict has been the confusion of a sophisticated technology with human commitment. Our bombs may in time destroy the geography, but they will never win the war.