GB·USA — 2006 | Regie: Alfonso Cuarón (...)
As the sound of the playgrounds faded, the despair set in ...
Winter 2027. Die Menschheit steht durch eine seit 18 Jahren herrschende Fortpflanzungsunfähigkeit genauso wie die zugrunde gerichtete Erde vorm endgültigen Kollaps. Verzweiflung, Chaos und Anarchie machen sich nicht nur auf der sich komplett abschottenden britischen Insel breit. Aus der chronischen Alltagslethargie wird
Theo Faron
(Clive Owen) schließlich gerissen als er von seiner eine Aktivistengruppe führende Ex-Frau gebeten wird, die wohl letzte & einzige Hoffnung auf eine Zukunft in Sicherheit zu bringen ...
Über diesen Film gibt es im Grunde nur Lob auszuschütten. U.a. drei
Oscar
-Nominierungen in den Kategorien Kamera, Schnitt und adaptiertes Drehbuch unterstreichen zumindest
einen
Teil der Stärken. Letzteres basiert auf einem Roman der erfolgreichen, englischen (ansonsten Kriminal-)Autorin P.D. James. Die Zukunftsvision und die sich daraus ergebende Grundstimmung von
Children Of Men
ist m.M.n. fast schon unheimlich überzeugend; ich kenne eigentlich keinen anderen Film, der unsere Gegenwart und ihre Entwicklung(en) derart beklemmend und ohne Schnick-Schnack in ein glaubwürdigeres "
Dystopia
" extrapoliert.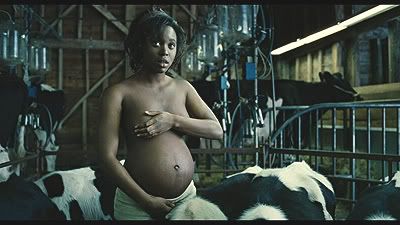 "Even if they discovered the cure for infertility, it doesn't matter. Too late ... world went to shit. You know what? It was too late before the infertility thing happenend, for fuck's sake."
Dazu trägt wohl auch die oft verwendete Handkameraoptik bei, mit deren Hilfe atemraubende Sequenzen in Echtzeit inszeniert werden und die den Zuschauer durch diesen quasi-dokumentarischen Stil stets mittig am Vorder- & Hintergrundgeschehen des Bildausschnittes teilhaben lässt. Clive Owen als desillusionierter, aber wiederbelebter "Mensch mit Herz & Instinkt" und der einen Alt-Hippie (wie üblich großartig) spielende Sir Michael Caine sind für mich schauspielerisch hervorstechend. Musikalisch sind John Taveners melancholisch-hoffnungspendende
"Fragments Of A Prayer"
(u.a.) ebenso wunderbar, wie die den Zeitgeist einfangende Auswahl an Popmusik — Franco Battiatos Interpretation von
Stones' "Ruby Tuesday"
kann einem an gegebener Stelle schon Tränen in die Augen treiben ... genauso wie dieser eigentlich in allen Belangen herausragende und vielschichtige Film.