USA — 2007 | Regie: Paul Thomas Anderson (...)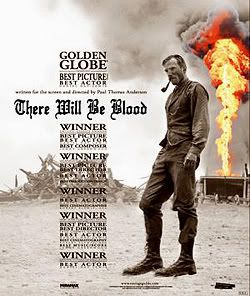 Ein Monstrum von einem Film.
Die Landschaft ist unwirklich & unwirtlich; gleiches gilt für den Soundtrack des
Radiohead
-Gitarristen Jonny Greenwood, der die anfänglich knappe Viertelstunde ohne ein einziges, gesprochenes Wort teilweise durchstößt. Ein einzelner Mann kämpft in einem tiefen Schacht mit sich und der Erde, um ihr deren verborgene Schätze zu entreißen. Was für ein Trip wird das werden ...?
Kalifornien um die letzte Jahrhundertwende, Gründerzeit des dortigen Geschäfts mit dem dickflüssig-dunklen Blut der Natur —
Daniel Plainview
steigt gegen viele Widerstände, aber mit unbarmherzigem Willen zum Ölbaron auf. Es ist ein Kampf mit allem & jedem, der sich ihm in den Weg stellt. Ein Kampf, den er am Ende nur verlieren kann, denn sein schlimmster Feind ist er selbst.
I have a competition in me. I want no one else to succeed. I hate most people.
Ein beeindruckend merkwürdiger Film. Zwischendrin überkam mich mal ein Anflug von Langeweile — am Ende dieser gut zweieinhalbstündigen Menschenstudie war ich einfach nur enttäuscht, dass das Ganze bereits vorbei war. Eine (1) Sichtung dürfte kaum ausreichen, um den Film zu begreifen. Die Komplexität & Vielschichtigkeit der allgegenwärtigen zwischen- & innermenschlichen Konflikte, in denen sich der total vereinsamte Protagonist befindet, steht in krassem Gegensatz zu dem Erlebnis an sich — Farben, Landschaft, Soundtrack ... alles wirkt irgendwie karg & ausgebeutet. Genau dieser Gegensatz fasziniert (und unterscheidet im letzten Punkt
There Will Be Blood
bspw. auch von Andersons
Magnolia
).
Im Zentrum von
TWBB
steht so wenig wie nötig die Geschichte des Aufstiegs
Daniel Plainviews
, sondern sein Charakter und damit Daniel Day-Lewis. Er dominiert, und jede Auszeichnung & Nominierung, die er für die Darstellung dieses Misanthropen erhalten hat, dürfte mehr als gerechtfertigt bzw. verdient sein, obwohl ich mir zunächst nur schwer vorstellen konnte, wie er seine Leistung in
Gangs Of New York
noch toppen wollte.
Ich bin gespannt, was Paul Thomas Anderson als nächstes von der Leine lässt ...