D·E·I — 1964 | Regie: Sergio Leone (...)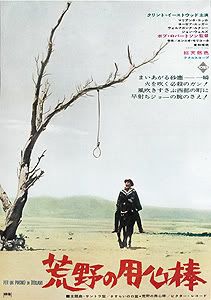 Gut informiert zu sein ist eine Existenzfrage. Davon kann das Leben abhängen.
"(...) The Italian Western was born not from ancestral memory but from the herd instinct of film-makers who, when young, were head over heels in love with the American Western. In other words, the Hollywood Western was born from a myth; the Italian one is born from a myth about a myth ..."
Alberto Moravia
, Januar 1967(
*
Seite 118)
Einer der nicht nur die Liebe zu US-Western sondern durch beide Elternteile zum Film allgemein wohl schon mit der Muttermilch aufgesogen hat, war der 1929 geborene und rund um die
Viale Glorioso
im römischen Stadtteil Trastevere auf- & herangewachsene Sergio Leone. Nachdem er selbst u.a. durch ein paar Sandalenfilme im Filmgeschäft Fuß gefasst hatte und bereits einige Hände voll Western italienischer Produktion gedreht waren, sah der leidenschaftliche Kinogänger im Herbst '63 Akira Kurosawas Samuraiepos
Yojimbo
(das seinerseits von westlicher Kultur inspiriert ist, ich allerdings immer noch nicht gesehen habe!). Leone sieht darin die Idee, dem geliebten, aber langsam sterbenden Western u.a. durch die Hinzunahme fremder Einflüsse neues Leben einzuhauchen — und sollte damit ein ganzes Genre erschaffen, das bis heute die Popkultur nachhaltig beeinflusst. Gleich vorweg: Wahrscheinlich weil sich darüber seinerzeit kaum jemand von der italienischen Crew einen Kopf gemacht hat, reklamiert Kurosawa die Originalität der Geschichte des einsamen Helden, der zwei rivalisierende Banden einer Stadt geschickt gegeneinander ausspielt und erhält im für ihn erfolgreichen Rechtsstreit nicht nur einen prozentualen Anteil des weltweiten Einspielergebnisses von
Per Un Pugno Di Dollari
, sondern auch die Vermarktungsrechte für Teile Asiens. Er sollte daran mehr verdienen als durch seinen eigenen Film.
Für eine Handvoll Dollar
ist ohne Zweifel der genrebildende Auftakt einer Flut von "Western all'Italiana" innerhalb derer Leones Beiträge wohl die bekanntesten sind. In diesem ersten Film der später so genannten "Dollar-Trilogie" sind die typischen Zutaten bereits angelegt: Vor allem die Einführung eines radikal anderen Typs des Wild-West-Helden, der in erster Linie mal an sich selbst denkt, damit verbunden eine bewusst unterschiedliche Auffassung von Ehre & Moral sowie die meist rohe und explizite Darstellung von Gewalt grenzen den Italo- von den amerikanischen Western ab. Hinzukommen solche unverwechselbaren Markenzeichen wie mit ihrem "Pop-Appeal" an
James Bond
erinnernde Eröffnungstitel (Eugenio Lardani hatte ich auch
hier
schon mal erwähnt), die i.d.R. südspanischen, markanten Drehorte & Landschaften, Leones Auge für Totalen und extreme Detailaufnahmen oder seine einzigartige Choreographie von Bild(-schnitt) & Ton ... das alles sind ein paar der Punkte, die mir beim Ansehen ein breites Grinsen ins Gesicht treiben. Die oben angesprochene, ansprechende Handlung tut in Verbindung mit dieser stilvoll-gediegenen Inszenierung ihr Übriges, astrein zu unterhalten. Natürlich spielt auch der Poncho-tragende und seinen
Toscano
-Zigarillo schwingende Darsteller des Protagonisten - neben dem von Theatermime Gian Maria Volontè großartig verkörperten Antagonisten - eine gewisse Rolle: Bronson, Coburn, Fonda ... Namen, die Leone wollte, aber aufgrund des (noch) sehr bescheidenen Budgets (noch) nicht bekommen konnte. Clint Eastwood, 34-jähriger Schauspieler in der US-TV-Westernserie
Rawhide
nutzte die Gelegenheit für einen bezahlten Urlaub in Europa und wurde für eine Handvoll 15.000 Dollar verpflichtet. Der Rest ist Filmgeschichte.
Was bleibt, ist noch die Erwähnung des Beitrags eines Mannes zu diesem Film, der in diesem Blog schon an der ein oder anderen Stelle auftauchte: Leones ehemaliger
Klassenkamerad
(
*
Fotoabschnitt 1, Bild 4) Ennio Morricone. Sein
Soundtrack
ist nicht nur der Beginn einer Leone-Morricone-Symbiose, sondern einer der ersten - zumindest für sein Schaffen während der '60er Jahre - charakteristischen Glanzpunkte des vielseitig ausgebildeten Komponisten. Viele sollten folgen ...
* aus Sir Christopher Fraylings "Sergio Leone: Something To Do With Death"
(mit dessen Lektüre ich Lesehonk gerade beschäftigt bin)
Mach drei Särge fertig.