Agenda 2010
— die ersten zwei Monate:
Serie(n)
aktuell:
Lost
Staffel 4 bzw. Staffel 5 (beide auf
BD
— die Qualität ist wirklich beeindruckend); bevor es Anfang Februar auf dem US-Sender
ABC
mit der sechsten & finalen Staffel weitergeht. Nach
SFU
resp. der Zeit nach der letzten Sichtung fiel es anfangs etwas schwerer, wieder auf der Insel Fuß zu fassen. Das hat sich allerdings inzwischen gelegt —
lost in time & space again ...
Darüber hinaus: Die ersten fünf Episoden der bizarren Welt von
Dexter
, die ersten drei Episoden von David E. Kelleys High-School-Serie
Boston Public
[klasse!],
diese
eine Episode
Seinfeld
, die jeweils erste Episode von
Cheers
bzw.
Star Trek: TOS
(in
HD
; Hut ab) sowie einige Folgen
Party Of Five
. Außerdem: Ausgewählte Episoden der immer (sehr!) gern gesehenen Serien
CSI: Crime Scene Investigation
(Staffeln 4, 6 & 7) und
Everybody Loves Raymond
und die Hälfte der ersten Staffel von
Brothers & Sisters
.
Dann gab's noch die
24
Stunden der Tage 3 & 4 im Leben des
Jack Bauer
resp. einen Teil des Tages 5 — topp. Ein kurzes Wort vielleicht noch dazu:
Gregory Itzin
als Präsident
Charles Logan
ist eine verdammte Offenbarung (im O-Ton auf jeden Fall ...).
Januar 2010:
7.| Fried Green Tomatoes (USA — 1991 | Regie: Jon Avnet)
Frauenfilm Nr. 1: Basierend auf einem Roman der Südstaaten-Schriftstellerin Fannie Flagg ist das
solide schön in Rückblenden erzähltes Hollywoodkino über unterschiedliche Frauen, ihre
Emanzipation(en) und Beziehungen zueinander damals & heute. Jessica Tandy und Kathy Bates
haben und machen sichtlich Spaß.
16.| Tekkon Kinkurîto (J — 2006 | Regie: Michael Arias)
Ein Amerikaner in Tokio: Emigrant & Animatrix-Produzent Michael Arias führt(e) Regie in diesem
alle Sinne faszinierenden Anime über zwei ungleiche, jugendliche Brüder und ihren Kampf um ihr
Territorium Treasure Town. An diesem Genre finde ich langsam immer mehr Geschmack. Für den
Soundtrack zeichnete das UK-Electronica-Duo Plaid verantwortlich — höre unten.
Dicke Sehempfehlung!


© 2006 Aniplex Inc.
17.| The Impostors (USA — 1998 | Regie: Stanley Tucci)
Es scheint, als hätten Tucci und sein hervorragendes (!) Ensemble bei seiner zweiten Drehbuch-/
Regiearbeit richtig Spaß gehabt. Eine schräge Verneigung vor Slapstick und Situationskomik im
30er-Jahre-Gewand. Campbell Scott als Nazi Meistrich und das Finale sind einen besonderen Blick
wert.
18.| Death Proof (USA — 2007 | Regie: Quentin Tarantino)
Frauenfilm Nr. 2: Ich wusste, dass mir des Podophilen Beitrag zum Grindhouse-Double-Feature
besser gefallen würde (vgl. Planet Terror). Hier stimmte für mich so ziemlich alles und die letzte
halbe Stunde rockt den Pansen einfach nur fett [Chapeau Zoë Bell ...]. Wiedersehen macht
Freude!
21.| Cool Hand Luke BD (USA — 1967 | Regie: Stuart Rosenberg)
"What we've got here is failure to communicate." Paul Newman in sicherlich einer seiner
markantesten Rollen als selbstverständlich unkonformer Häftling, der damit nicht nur sich und
seinen Aufsehern das Leben schwer, sondern seinen Mitgefangenen selbiges unbewusst auch
leichter macht. Basiert auf dem Roman von Donn Pearce, einst selbst "Mitglied" einer Südstaaten-
Chain-Gang. Lalo Schifrin sorgt für die passende Filmmusik. Ein unbeugsamer Klassiker. Nicht nur
unter den Gefängnisfilmen.
22.| WALL·E BD (USA — 2008 | Regie: Andrew Stanton)
Animationsfilme auf Blu-ray sind schon was fürs Auge ... krass. WALL·E macht Laune — schick
kurzweilig, mit (massenkompatibler) Botschaft. Per se erst mal nix Schlechtes, wie man hier
sieht!
Persönliche Randnotiz: Animationsfilme mit mehr Mut & Eigenständigkeit heißen Animes. ;)
23.| The Curious Case Of Benjamin Button BD (USA — 2008 | Regie: David Fincher)
Irgendwie erschien mir dieser Fall Film nach Sichtung tatsächlich etwas seltsam ... In Sachen
"production values" ist das ein absoluter Genuss — nicht umsonst ein Fincher. Aber was genau
hatte der zentrale Ausgangspunkt der (auf F. Scott Fitzgerald basierenden und bspw. hier
runterladbaren Kurz-) Geschichte mit der Handlung an sich zu tun?! Hinzukommen Eric Roths
übernommene, schon als "nicht mehr feierlich" zu bezeichnende Parallelen (s)eines Drehbuchs
von 1994: Forrest Gump. Aging backwards. Tolle Show. Perlen vor die Säue. [Siehe dazu auch
Link 1 und Link 2 — Spoiler!] Das nächste Mal wieder etwas Originalität, Herr Fincher. Nicht den
Scorsese machen und auf den Oscar hinarbeiten ... bitte.
24.| Alien 'Director's Cut' (GB·USA — 1979 | Regie: Ridley Scott)
Da dieser Streifen irgendwann noch mal 'nen Einzelbeitrag verdient hat, breche ich mir hier
jetzt mal keinen ab und schreibe einfach nur: Zeitlose & maßstabsetzende Großtat von Scott.
| Aliens Special Edition (GB·USA — 1986 | Regie: James Cameron)
Cameron lässt es krachen. Kleckern ist ein Fremdwort. Eigentlich immer bei seinen Filmen, oder?
So anders als der Vorläufer und auf seine Art genauso gut. So viel wenig mal dazu ...
25.| Alien³ Special 'Assembly Cut' Edition (USA — 1992 | Regie: David Fincher)
Diese Produktion stand wohl von Anfang an unter keinem guten Stern — kein fertiges Skript,
dafür bereits fertiggestellte Sets, die genutzt werden wollten ... einige Zeilen mehr über David
Finchers Spielfilmdebut|Albtraum findet man z.B. hier. Ich kann nur sagen, dass mich dieser
dritte Beitrag zum Alien-Franchise von Anfang an beeindruckt hat. Der von der Welt, aber nicht
von Gott entrückte Handlungsort, die dazu passende Symbolik, die ungewöhnliche Gemeinschaft
der Charaktere. Dazu Finchers Optik und Schauspieler wie Charles Dance oder Charles S. Dutton
(um nur zwei zu nennen). Trotz seiner Mängel (speziell die des 'Assembly Cut') ein für mich
absolut würdiger Teil der Reihe, die auch & vor allem durch ihre Abwechslung besticht.
Jean-Pierre Jeunets Beitrag dazu muss noch gesichtet/ergänzt werden.
26.| Predator* (USA — 1987 | Regie: John McTiernan)
30.| When Strangers Appear (AUS·NZ·USA — 2001 | Regie: Scott Reynolds)
Ein irgendwie richtig schön dreckiger kleiner Thriller, dessen Plot man vermeintlich schon 100
Mal gesehen hat, um einen dann aber nicht erst am Schluss leicht bis breit grinsend
zufriedenzustellen. Cool.
31.| Paul Blart: Mall Cop BD (USA — 2009 | Regie: Steve Carr)
Das geht schnell, weil eindeutig: Der Trailer machte keinen gänzlich unlustigen Eindruck. Nach
einer Viertelstunde beschlich mich ein mieses Gefühl: Fremdscham. Die 90 Minuten zogen sich
unsäglich. Das war alles irgendwie so schlecht, dass es auch nicht gut wurde. Kevin James wollte
wohl einfach nur mal Segway fahren. Zum Glück nur geliehen ...
Februar 2010:
6.| The Nightmare Before Christmas BD (USA — 1993 | Regie: Henry Selick)
Zwei Jahre bevor mit Pixars Toy Story der erste vollständig am Computer erzeugte Animationsfilm
veröffentlicht wurde, setzt Tim Burtons "Feiertagsclash" (basierend auf einem von ihm
geschriebenen Gedicht) bewusst auf die Stop-Motion-Technik, die dem Ganzen für meine Begriffe
erst so richtig ihren Charme verleiht bzw. darüber hinaus astrein mit der gespenstischen
Atmosphäre harmoniert. 1A-Unterhaltung, an der (neben Stop-Motion-Spezi Selick) auch Burtons
Haus-und-Hof-Filmmusikkomponist Danny Elfman einen ganz wesentlichen Anteil hat.
7.| Immortal Beloved BD (GB·USA — 1994 | Regie: Bernard Rose)
Wer oder was ist die unsterbliche Geliebte ... das ist der fiktive Aufhänger in diesem wirklich
stimmigen Epochenfilm über den 1770 in Bonn geborenen und schließlich in Wien lebenden Ludwig
van Beethoven. Hier überzeugt nicht nur Gary Oldman in der Rolle des ertaub(ten)enden
Komponisten. Der "Best-Of-Beethoven-Soundtrack" bedarf wohl keines weiteren Kommentars.
12.| Metropolis [ARTE] (D — 1927 | Regie: Fritz Lang)
TV-Sichtungen (die ohnehin kaum noch stattfinden) führe ich hier ja nicht auf — für die
Welturaufführung der rekonstruierten & restaurierten Fassung dieses einflussreichen und als
erster Film überhaupt ins Weltdokumentenerbe der UNESCO aufgenommenen (nicht nur Stumm-
film-)Klassikers, der im Rahmen der diesjährigen 60. Berlinale und gleichzeitig auf ARTE lief, gilt
das nicht. Mehr Infos dazu & darüber hinaus finden sich unter Metropolis 27/10 oder Wikipedia.
"Mittler zwischen Hirn und Händen muss das Herz sein." Dieser zentrale Leitsatz scheint sich
auch im Drehbuchautorin-/Regisseur-Duo und damaligen Ehepaar Thea von Harbou und Fritz Lang
wiederzuspiegeln. Während von Harbou eine an Symbolik und Motiven fast überbordende
Adaption ihres Romans verfasste, verwirklichte sich Lang in der technisch-filmischen Umsetzung
dieser Mammutproduktion mit bis dahin ungesehenen Effekten. Der Mittler muss bei dieser
Konstellation wohl der Zuschauer sein und rückblickend kann ich trotz einiger Kritikpunkte nur
eines tun: Ehrfürchtig staunen — über Hirn & Hand. Ich freue mich auf die Zweitsichtung ...
20.| C'est Pas Moi, C'est Lui (F — 1980 | Regie: Pierre Richard)
Ich weiß nicht, wieviele Filme es gibt, bei denen man als Teenager Tränen gelacht hat und man
dies dann auch noch über die Jahre als Erwachsener tun kann. Zwei Kamele auf einem Pferd (der
deutsche Titel) ist für mich in jedem Fall so ein Film. Köstlicher Klamauk von & mit Pierre Richard
nebst einem kongenialen Partner: Dem Turiner Aldo Maccione. Zusammen mit einer allerfeinsten
Synchronisation aus dem Hause Rainer Brandt und der Stimme des Rostockers Jürgen Thormann
auf Macciones Charakter Aldo Barazzutti kann ich mich allein beim Gedanken daran schon
beeumeln. Ich warte sehnlichst auf die DVD!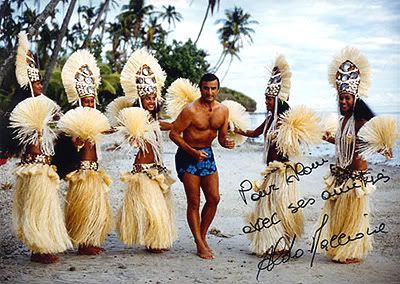 21.| Vantage Point BD (USA — 2008 | Regie: Pete Travis)
Wie schrieb ich mal zum Film 11:14: "Das Prinzip verknüpfter Handlungen bzw. Perspektiven ist
nicht neu, (...)" Hier mit dem Versuch, dies in 24-Manier durchzuziehen. Fazit: Bedingt gelungen.
Die Verfolgungsjagd per Automobil ist auf alle Fälle unbedingt gelungen. Ansonsten solide Kurzweil
würde ich sagen.
| Marathon Man (USA — 1976 | Regie: John Schlesinger)
Dieser auf William Goldmans Roman/Drehbuch beruhende New-Hollywood-Thriller hat für mich ab
der ersten Einstellung was latent Bedrohliches und Unbehagliches an sich. Und das hängt nicht
nur mit der Leistung Sir Laurence Oliviers resp. seinem Charakter zusammen, einem ehemaligen
KZ-Arzt, dessen Bruders Tod ihn aus seinem südamerikanischen Unterschlupf treibt. Hoch-
spannend und -interessant.
| Ad Ogni Costo* (D·E·I — 1967 | Regie: Giuliano Montaldo)
25.| Up BD (USA — 2009 | Regie: Pete Docter & Bob Peterson)
Pixars letzter Streich (Toy Story 3 wird im Sommer anlaufen) über einen verwitweten
Misanthropen, der sein letztes, fantastisches & lang erträumtes Abenteuer gezwungenermaßen
mit einem kleinen, eifrigen Pfadfinder bestreitet, hat neben vier weiteren Nominierungen am 7.
März auch die Chance auf den Oscar als Bester Film — nach Beauty And The Beast aus dem Hause
Disney erst der zweite Animationsfilm, dem dies gelungen ist. Gleichzeitig ist Up nach Finding
Nemo der kommerziell zweiterfolgreichste Film der Pixelschmiede. Es scheint als seien deren
Produktionen Selbstläufer. Ich fühlte mich von Oben sehr gut unterhalten, empfand manchen
starken Handlungsfaden aber leider als zu kurz, andere simpel gesagt zu blöd. Sicherlich alles
andere als ein Ausfall, aber es gibt zumindest bessere, "konsistentere" Pixar-Streifen finde ich.
Ich persönlich warte immer noch auf die BD von The Incredibles ...
Ausbau der Agenda folgt — stay tuned.