Januar 2012:
1.| Toy Story BD (US — 1995 | Regie: John Lasseter)
Die Pixar-Spielfilmpremiere wirkt rückblickend ziemlich retro. Und vielversprechend.
10.| Die verlorene Ehre der Katharina Blum BD (DE — 1975 | Regie: Volker Schlöndorff & Margarethe
von Trotta)
Literaturverfilmung made in Germany. Schwarzbrot goes Leinwand. Mir gefällt's (trotzdem).
15.| The Count Of Monte-Cristo (GB·IT — 1975 | Regie: David Greene)
Das Buch habe ich nicht gelesen. Diese TV-Adaption habe ich vor ewigen Zeiten gesehen. Ist mir
als sehr stimmig in Erinnerung geblieben. Daran wird sich wohl auch nix ändern.
30.| Super 8 BD (US — 2011 | Regie: J.J. Abrams)
Abrams ≠ Spielberg. Nett, die kleine Schwester von scheiße, so schlimm war's aber nun nicht.
Februar 2012:
24.| The Ladykillers BD (GB — 1955 | Regie: Alexander Mackendrick)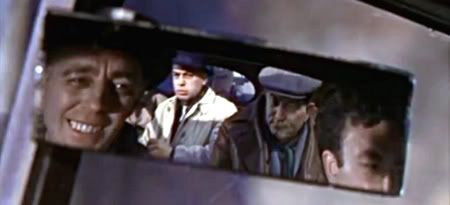 Köstlich. Ealing Studios FTW!
März 2012:
7.| That Thing You Do! (US — 1996 | Regie: Tom Hanks)
Hanks Drehbuch-/Regiedebut ist eine kurzweilige Feel-Good-Hommage an die Swingin' Sixties.
Schmerz & kurzlos.