Ich verrate glaube ich nicht zu viel, wenn ich mich als Soundtrack-/Film-Aficionado
'in progress'
oute ... die Linkansammlung rechts lässt diesbezüglich ja mehr oder weniger tief blicken.
'In progress'
deshalb, weil man bei diesem - wie den meisten anderen - Hobbies eigentlich nie "ausgelernt" hat — es gibt immer wieder Neues & Interessantes zu entdecken ... und das ist auch gut so!
(Die
Hörbar.
steht zudem nicht umsonst an 1. Stelle — music makes my day ...)
Um mal richtig auf die Kacke zu hauen, gibbet hier meine
Soundtrack-Sammlung
(leider nur für mit Glieder von
SoundtrackCollector
:( ) und meine geschätzte
Filmsammlung
verbirgt sich hinter dem Hyperlink.
Aktueller Neuzugang: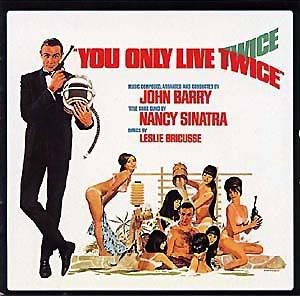 John Barry anno 1967 — vielleicht etwas weniger
'brass-groovy'
als seine Vorgänger (
From Russia With Love
|
Goldfinger
), aber deswegen nicht minder charmanter Big Band Score, der für mich den Barry-Sound (Bläser-/Streicher-Harmonien) späterer Jahre (
Moonraker
|
Dances With Wolves
) etabliert.
Zukünftig wird hier wohl auch ein kleines Filmtagebuch (Label:
FTB
) entstehen ... stay tuned!