USA — 1978 | Regie: Michael Cimino (...)
I don't make movies intellectually, I don't make movies to make a point, I make movies to tell stories about people.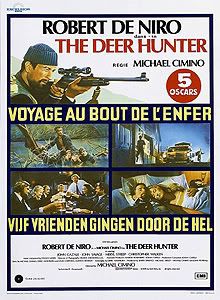 So Michael Cimino in einem Interview des DVD-Bonusmaterials ... wer
The Deer Hunter
gesehen hat, sollte genau wissen, was er damit meint und vor allem: wie authentisch & intensiv ihm dies gelungen ist. Der Film beschreibt in drei Akten (vor, während und nach "dem
[Vietnam-]
Krieg"), wie dieser das Leben dreier eng befreundeter Stahlarbeiter aus Pennsylvania und ihres nahen gesellschaftlichen Umfeldes beeinflusst und verändert. Wie ein epischer Roman nimmt sich der Film die Zeit, den Mikrokosmos und die Gefühlslage seiner Charaktere detailliert, eindringlich und in teils opulenten Bildern & Szenen zu beschreiben — heutzutage bei schnell geschnittener, oft oberflächlicher Hollywoodkost sicherlich nicht zwingend jedermanns Sache.
Die durch die Hölle gehen
(der deutsche Titel) zählt wie bspw. auch
Apocalypse Now
ohne Zweifel zu
den
sich mit der Thematik 'Krieg' auseinandersetzenden Filmen, die man gesehen haben sollte — gerade weil hier der größere Wert auf das "davor" & das "danach" gelegt wird. Die berühmte 'Russisch Roulette'-Szene "dazwischen" - Ciminos Synonym für das Martyrium bzw. den im Krieg unvorhersehbaren & wahllosen Tod - dürfte eine der krassesten sein, die je auf Zelluloid gebannt wurde — auch in Sachen Schau'spiel'. Fünf
Oscars
(u.a. für den besten Film & die beste Regie) unterstreichen die Wirkung, die dieser nur drei Jahre nach Ende des Vietnamkrieges und sich mit diesem US-Tabuthema befassende (daher von der britischen EMI finanzierte), zweite Film Ciminos hinterlässt, der darüber hinaus als Inspiration für das Washingtoner
Vietnam Veterans Memorial
diente ...
Der zusammen mit Cimino und dem US-Kritiker F.X. Feeney in einer Art
'Q&A-Session'
erstellte Audiokommentar (exklusiv auf der
UK-DVD
) gehört wohl mit zum Besten, was es in dieser Richtung zu hören gibt. Es wird deutlich, wieviel Herzblut in diesem Projekt steckt und dass es für die Beteiligten trotz aller Entbehrungen ein bis heute einzigartiges Erlebnis war. Cimino erzählt u.a. von den harten Dreharbeiten dieser drehorttechnisch durchaus komplexen Produktion, dem hohen körperlichen Einsatz der Hauptdarsteller De Niro, Savage & Walken oder auch der Krebskrankheit John Cazales, der kurz nach Veröffentlichung des Films verstirbt ... Dass Cimino mit seinem hierauf folgenden Film
Heaven's Gate
(1980) für einen der größten Flops der Filmgeschichte sorgte, der mehr oder weniger gleichbedeutend mit dem Ende seiner (zumindest Wunsch-)Karriere war, mag in Anbetracht des hier besprochenen Meisterwerks verwundern, zeigt aber, dass manche Visionen sich eben nicht ins Schema pressen lassen — auch wenn dazu immer zwei Seiten gehören.
"You wanna play games? All right, I'll play your fucking games."