GB — 1971 | Regie: Mike Hodges (...)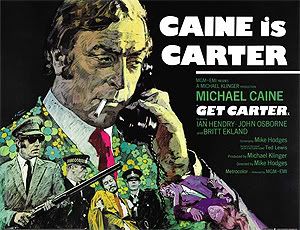 Jack Carter
, seines Zeichens Berufskiller der Londoner Unterwelt, reist gegen den Willen seines Bosses (mit dessen Geliebten
Carter
ein Verhältnis & 'Ausreisepläne' hat) in seine triste Heimatstadt Newcastle, um sich von den Hintergründen des Todes seines Bruders ein Bild zu machen. Im Verlauf von gut zwei Tagen räumt er dort ordentlich auf und geht mit fast schon nihilistischer Vehemenz seinen Weg durch die Stadt — bis zum bitteren Ende ...
Mike Hodges' erster Spielfilm gilt bei vielen Quellen als einer der wegweisendsten & besten des britischen Kinos und definiert nach den meist quietschbunten
'Sixties'
das Gangster-/Thrillergenre als rau, brutal & zynisch. Gepaart mit der Darstellung durch Sir Michael Caine (der seinem Hund übrigens in der Folge den Namen
Carter
gab), der dem eigentlich miesen Kotzbrocken eine bewundernswert-souveräne Coolness verleiht und der feinen Prise englischen Humors, entsteht dieses kultige Momentum, das bestimmt nicht nur britische Filmemacher wie Ritchie oder Wright/Pegg beeinflusst(e).
Eine der m.M.n. größten Stärken des Films ist das auf dem Ted-Lewis-Roman
"Jack's Return Home"
basierende Drehbuch von Hodges sowie die oft aus einer kauernden Position heraus filmende Kamera, die
Carter
s Weg und die Stadt Newcastle dokumentiert bzw. beobachtet — die ausschließlich authentischen Drehorte tun ihr Übriges in Sachen Realismus.
Carter
s Entschlossenheit und die von ihm ausgehende Bedrohung ist dabei ab der ersten Einstellung zu spüren. Wie der Hauptcharakter selbst muss sich der Zuschauer im weiteren Verlauf aus den sich nach & nach ergebenden Informationshappen und den auf das Nötigste beschränkten Dialogen einen Reim machen, was die Spannung & das Interesse bis zum Schluß auf höchstem Level hält!
Do you know? I'd almost forgotten what your eyes look like. They're still the same. Pissholes in the snow.
— Still got a sense of humour.
Yeah. Yes, I retained that, Eric.
Nach der Eröffnungssequenz [bei der bereits der Vorhang fällt ...] wird
Carter
s Zugfahrt nach Newcastle als eigentlicher Vorspann mit dem markanten
"Get Carter"
-Thema von Roy Budd unterlegt, das (zumindest in Großbritannien) dem Bekanntheitsgrad von Monty Normans
007
-Melodie kaum nachsteht. Zusammen mit dem Songschreiber Jack Fishman liefert das ehemalige Klavierwunderkind Budd den aus zeitlosem Jazz & '70s-Popsongs bestehenden, passend-gediegenen Soundtrack ab. Nebenstehende Veröffentlichung gehört m.M.n. nicht nur aufgrund der Qualität, sondern auch wegen Informationsgehalt (ausführliches Booklet) & Aufmachung (ein sog.
'Gatefold Sleeve'
inkl. vieler Fotos) in jede ordentliche Filmmusiksammlung — von demselben Label
Cinephile/Castle Music
stammen auch andere großartige Budd-Scores wie z.B.
The Black Windmill
,
Diamonds
oder
Fear Is The Key
.
Diese Seite
widmet sich dem leider viel zu früh verstorbenen Budd, der für meine Begriffe zu Unrecht weniger bekannt ist als bspw. ein John Barry. Vielleicht pack' ich in Kürze mal das
"Get Carter"
-Thema in die
Boxbar.
— stay tuned.
Nachtrag — 23. Mai 2009
: Nix
Boxbar.
. Nachdem ich den
bereits erwähnten
Audiospieler gestern
zum ersten Mal
implementiert habe, kommt das oben beschriebene Thema jetzt noch auf diese Weise hier hin:
© 2000

John Hill Productions/Sanctuary Records Group Ltd.