USA — 2008 | Regie: Christopher Nolan (...)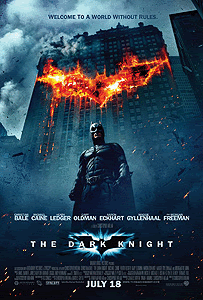 I am whatever Gotham needs me to be.
Batman Begins
. Ein Jahr später bekommt es
Gotham City
mit dem
Joker
zu tun. Ein unberechenbarer Soziopath, der die Stadt ins Chaos und deren Verteidiger an den Rand ihrer Überzeugungen treibt — und darüber hinaus ...
You either die a hero
or you live long enough to see
yourself become the villain.
Ich weiß nicht, ob ich auch ohne das
Cinefacts
-Forum derart vom Hype um den Film mitbekommen hätte. Der Begriff "virales Marketing"
[for whom it may concern: *klick*]
und seine (möglichen) Auswirkungen kamen mir dort zum ersten Mal bewusst unter und nach den
Trailern
konnte ich mich dem Ganzen dann auch irgendwie nur noch schwer entziehen — zwei Kinobesuche (das zweite Mal im O-Ton) folgten.
Zum Erfolg an den (inter-)nationalen Kinokassen: U.a. erwirtschaftete
TDK
inzwischen nicht nur über 1 Milliarde US-Dollar weltweit sondern nach nur 6 Tagen bereits mehr als sein Vorgänger
Batman Begins
während dessen gesamter Laufzeit in den Staaten (mehr
Fakten
&
Details
).
Because sometimes the truth isn't good enough. Sometimes, people deserve more.
Wie ich
hier
schon schrieb reizen mich Comicverfilmungen im Allgemeinen nur bedingt. Was die britischen Nolan-Brüder (+ David S. Goyer [
u.a.
Drehbuchautor von
Dark City
]; das
TDK
-Drehbuch als
PDF
kann man sich übrigens
runterladen
) aus dem
Batman
-Universum gemacht haben finde ich allerdings ziemlich sehenswert. Unter Verwurstung verschiedener Handlungselemente aus
Batman
-Comics wie bspw. Alan Moores
"The Killing Joke"
oder Frank Millers
"The Dark Knight Returns"
(von denen ich allgemein aber noch keinen einzigen gelesen habe), gelingt es dem Team eine packende und auf Realismus Wert legende Atmosphäre zu erzeugen, die das Ganze gepaart mit eindrucksvollen Charakteren, Dialogen & Actionsequenzen zu einem verdammt intensiven & dichten Filmerlebnis werden lässt — das Erzähltempo ist rasant. Ob dies oder eher das unter "
IMDb

-Triviales
" nachzulesende
'pace pass editing'
Nolans der Grund für einige (wenige, zumindest merkwürdig erscheinende) Schnittsprünge war ...? Die diversen & vielfältigen (nicht nur) psychologischen Duelle, die sich der
Joker
(Ledger) mit
Batman
(Bale), Staatsanwalt
Harvey Dent
(Eckhart) und
Commissioner James Gordon
(Oldman) liefert, sind neben den ausgearbeiteten Tiefen der Charaktere & deren Dilemmas in jedem Fall bemerkenswert und auch mit dafür verantwortlich, dass sich diese Comicverfilmung mehr als souverän von der Mittelmäßigkeit abhebt. Auch wenn es hier & da Indizien gibt, es ist noch nicht offiziell, ob (die) Nolan(s) und Goyer einen ihren Ansprüchen genügenden dritten Beitrag zum Franchise realisieren — ich hätte nichts dagegen.
Heath Ledger, der am 22. Januar 2008 auf tragische Weise verstarb, setzt zudem mit seiner Verkörperung des
Jokers
einige beeindruckende Gänsehautmomente und wurde für seine Leistung vor Kurzem auch ohne den posthumen Beigeschmack vollkommen zu Recht mit dem
Oscar
(u.a.) des besten Nebendarstellers ausgezeichnet. Ende des Jahres wird er in seinem letzten (unvollendeten) Filmprojekt, Terry Gilliams
The Imaginarium Of Doctor Parnassus
, zu sehen sein ...
Ob aktuell Platz
#6
in der
IMDb
-Top250-Liste gerechtfertigt ist, weiß ich nicht. Aber ein fordernder & facettenreicher Blockbuster diesen Ausmaßes hat das vielleicht verdient.
I'm an agent of chaos. Oh, and you know the thing about chaos? It's fair!