Oktober 2011:
1.| Charade (US — 1963 | Regie: Stanley Donen)
Wie war das? "Der beste Hitchcock-Film, den Hitchcock nie gedreht hat."
2.| The Wicker Man (GB — 1973 | Regie: Robin Hardy)

© 1998 Trunk Records | Willow's Song@Wikipedia
Heidenwitzka! Was fürn abgedrehter, kruder und stellenweise doch recht fragwürdiger Streifen
... kein Wunder, dass das Ding Kultstatus besitzt.
3.| Patton BD (US — 1970 | Regie: Franklin J. Schaffner)
Ich habe mich nicht mit der Biographie von "Old Blood and Guts" beschäftigt, aber an dem Film
an sich stimmt so ziemlich alles.
I wonder if I could have been here before as I drive up the Roman road the Theater seems familiar — perhaps I headed a legion up that same white road... I passed a chateau in ruins which I possibly helped escalade in the middle ages. There is no proof nor yet any denial. We were, we are, and we will be.
10.
|
Catch-22
(US — 1970 | Regie: Mike Nichols)
Ich habe bis dato noch keinen Film des gebürtigen Berliners Nichols gesehen, der nicht etwas
(ganz) Besonderes war.
Catch-22
muss ich irgendwann noch mal einwerfen.
12.
|
Sabrina
(US — 1954 | Regie: Billy Wilder)
Ich gehöre zu der Sorte, die das Remake von Sydney Pollack vor dem Original gesehen haben.
Letzteres hat mich jetzt nicht so richtig begeistert. Klassische Hollywood-RomCom hin oder her,
trotz großer Namen konnte ich mit keiner Figur wirklich "mitfühlen". Holden gibt den dümmlichen
Playboy, Bogart spielt (wenn es auch seiner Rolle gerecht werden mag) über weite Strecken
uninspiriert und das Frauenbild, das Hepburns Titelheldin verkörpert, empfand ich als ziemlich
armselig. Einen überspringenden Funken zwischen den beiden letztgenannten konnte ich auch
kaum ausmachen. Klingt schlimmer als es war, aber alles in allem war mir's dann schlicht zu alt-
backen.
13.
|
Edge Of The City
(US — 1957 | Regie: Martin Ritt)
Ein überzeugendes & sehenswertes Außenseiterdrama mit anregendem Schluss. Guter Film.
29.
|
Kelly's Heroes
BD
(US·YU — 1970 | Regie: Brian G. Hutton)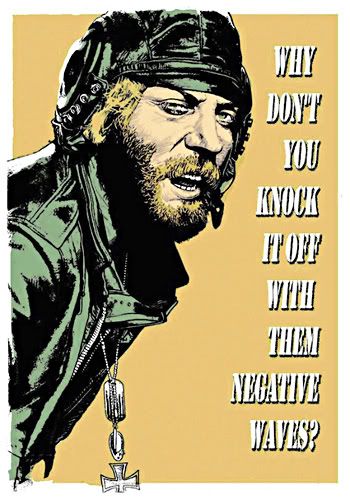 Ein großartiger Haufen
alliierter Soldaten ist
auf eigene Faust hinter
den feindlichen Linien
auf der Suche nach
Nazi-Gold.
Was
will man eigentlich
mehr ...?
30.| Sunset Blvd. (US — 1950 | Regie: Billy Wilder)
Der schwergewichtige Stoff aus dem Traumfabrik gewebt ist ... zerfleddert. Großes Drama,
großes Schauspiel. Beeindruckend. Mein Highlight: Erich von Stroheim (mit seiner letzten Arbeit
für Hollywood). Klasse.
31.| Friday The 13th (US — 1980 | Regie: Sean S. Cunningham)
*ki ki ki ... ma ma ma* Horror ist ja nicht so mein Genre. Die zahllosen Fortsetzungen von Jason
Voorhauts Abenteuern interessieren mich nach diesem Auftakt dann auch nicht wirklich. Tom
Savini hat allerdings einen spitzen Job gemacht. Verbucht unter "Endlich mal gesehen".
November 2011:
3.| Halloween (US — 1978 | Regie: John Carpenter)
Noch so einer dieser Kategorie. Aber Carpenter ist dann doch ein anderes Kaliber. Fühlte mich
'chön spannend unterhalten.
6. & 13.| Star Wars: Episode III - Revenge Of The Sith BD (US — 2005 | Regie: George Lucas)
18.| Kaze No Tani No Naushika BD (JP — 1984 | Regie: Hayao Miyazaki)
Zweitsichtung der Geschichte einer naturverbundenen Mädchenprinzessin und ihrem kämpfe-
rischen Einsatz für eine harmonischere Welt. Klingt vielleicht pathetisch, ist aber ein audiovisuell
wie inhaltlich wunderschöner, anregender Anime, der eigentlich auch einen Einzelbeitrag
verdient hätte. Ebenfalls wunderschön und meiner Meinung nach nicht zu toppen ist die japa-
nische Blu-ray-Disc (mit deutschem Ton), die ich dankenswerterweise mein Eigen nennen darf.
27.| The Lion King BD (US — 1994 | Regie: Roger Allers & Rob Minkoff)
Noch 'ne Zweitsichtung. Ganz schön grausam so ein Disneyfilm. Aber am Ende wird ja alles gut.
Animationsfilme in HD ... feine Sache.
Dezember 2011:
4.| Toy Story 3 BD (US — 2010 | Regie: Lee Unkrich)
Pixar hat's drauf. Topp³.
25.| The Lord Of The Rings: The Fellowship Of The Ring* Extended Edition BD (NZ·US — 2001 | Regie:
Peter Jackson)
Einfach großartig.
Akte|11
geschlossen.