Weiter geht's mit ...
August 2009:
1.| Home For The Holidays (USA — 1995 | Regie: Jodie Foster)
Fosters zweite Regiearbeit ist wie bspw. schon Pieces Of April (siehe VEB-Eintrag zuvor) ein Film
über ein Thanksgiving-Familientreffen, währenddessen sich auf etwas reifere aber nicht minder
charmant-bittersüße Art klare & versteckte Zuneigungen, Feindschaften sowie Skurrilitäten der
Beteiligten offenbaren. (Sehr) gutes & toll harmonierendes Ensemble!
| Get Carter (USA — 2000 | Regie: Stephen T. Kay)
Ich 'versuche', Remakes nicht pauschal zu verdammen. Der Versuch, sie als eigenständige Filme
zu sehen bzw. zu beurteilen fällt natürlich umso schwerer, je mehr man das Original schätzt.
Dilemma — selbiges tue ich im vorliegenden Fall SEHR. Die Schwerpunkte, die hier gesetzt werden
haben nur noch "storygerüsttechnisch" etwas mit der Vorlage zu tun und ohne jeglichen
Vergleich bleibt ein leidlich bemüht wirkender Actionstreifen; mehr nicht. Schlussendlich dann
also doch mein Fazit: Caine is Carter.
2.| Elephant (USA — 2003 | Regie: Gus Van Sant)
"Teil 2" von Van Sants "Todestrilogie" [Spoiler!]. Eine neutrale/nüchterne Haltung bei emotional
bzw. generell komplexen Taten wie einem Schulmassaker an den Tag zu legen, mag ein Ansatz sein
damit umzugehen. Wenn ein Film dies tut, um damit zum einen den Zuschauer letztlich kalt zu
lassen und zum anderen die (für alle Nicht-Zyniker inhärente) Frage nach dem Warum ganz
bewusst nicht resp. als "offensichtlich nicht klärbar" zu beantworten (gleichzeitig aber nicht
mehr als Platitüden anbringt, um doch ein paar Ansätze zu liefern), dann ist mir das einfach
etwas zu wenig. Der das Ganze inspirierende Kurzfilm gleichen Namens ist da in jedem Fall
konsequent(er). "Dennoch" würde ich diesen Elefanten (auch dank Optik & Erzählperspektive[n])
empfehlen. Bestenfalls lässt er kontrovers diskutieren.
| The Kingdom (D·USA — 2007 | Regie: Peter Berg)
Die politische Großwetterlage, die als Hintergrund dieses von 'Lions For Lambs'-Drehbuchautor
Carnahan geskripteten Films dient, wird stylish in & mit den Eröffnungstiteln abgefrühstückt.
Danach gibt's "CSI: Riad" auf FBI-Niveau mit grundsätzlich wenigen Überraschungen in Sachen
'West meets Middle-East', aber einigen wirklich imposanten & gelungenen Actionsequenzen!
| Det Sjunde Inseglet (S — 1957 | Regie: Ingmar Bergman)
Entkräftet & ausgezerrt finden sich Kreuzritter Antonius Block (Max von Sydow) und sein
einfacher Gefolgsmann bei ihrer Rückkehr aus dem Gelobten Land am Strand ihrer Heimat wieder,
nur um vom leibhaftigen Tod (Bengt Ekerot) empfangen zu werden — die Pest hat das Land fest im
Griff. Eine Partie Schach verschafft Block Zeit und dem regungslos seinen immer gleichen Dienst
verrichtenden Sensenmann Kurzweil — es kann ohnehin nicht sein schwarzer König sein, der fällt.
Den Edelmann bzw. eine Gruppe von fahrenden Gauklern auf ihrem Weg begleitend beschreibt der
Film einen an Symbolik reichen Querschnitt von Menschen in Zeiten apokalyptischer Verzweiflung.
Gott (wie auch Satan) ist nicht gegenwärtig, nur der Tod ist es und gibt sogar den Beichtvater.
Bergman mag Atheist sein, aber er ist kein Zyniker — es ist bei Weitem nicht alles hoffnungslos in
diesem wirklich beeindruckenden, mittelalterlich-zeitlosen Werk ...
3.| Le Locataire (F — 1976 | Regie: Roman Polański)
Der Mieter goes loco. Ob es an dem Verlust von Privatssphäre, der Ausgrenzung, seinem
unscheinbaren & nach außen schwächlich wirkenden Charakter oder schlicht dem Haus, seinen
Bewohnern bzw. der Wohnung selbst liegt ... Trelkovsky (Polański) verfällt dem Wahnsinn. Und
die Art & Weise wie man dies als Zuschauer erlebt, trieb mir Gänsehautschauer über den Rücken
wie ich sie in vergleichbarer Weise bisher nur bei Don't Look Now erlebt habe. Langsam stetig
diffus subtil fies (große) Klasse.
7.| The Great Dictator (USA — 1940 | Regie: Charles Chaplin)
Man muss mit sich wiederholenden "Spiegel TV"- oder Guido-Knopp-Dokus zum Thema NS-Zeit nicht
mal übersättigt sein, um die Bedeutung dieses Films zu begreifen. Mit der universellen Kraft und
Macht des Humors wird ein System samt seines Führers & dessen Schergen demaskiert. 1940 ...!
Da ich selten eine informativere Rezension als diese gelesen habe, verweise ich für lesenswertes
Mehrwissen darauf; auch SPON hat filmisch Weiterführendes im Angebot. Ich biete noch
SprachKotCode und Klartext: Charles Chaplin als der "Große Diktator" und als ... er selbst. (Ganz)
"Großes Kino".
8.| Abwärts (D — 1984 | Regie: Carl Schenkel)
Schauspieler/Charaktere wie (dezent hintergründige) Story überzeugen eigentlich — es ist schon
ziemlich stickig in diesem Aufzug(sschacht). Lediglich der '80er-Jahre-Muff scheint selbst dort
leider unübertünchbar. Solide gut.
9.| Efter Brylluppet (DK·S — 2006 | Regie: Susanne Bier)
Keine Ahnung, ob das dänische Filmhochschulsystem einfach nur verdammt gut oder ob es Zufall
ist, dass unser kleines, nördliches Nachbarland derart feine Regisseure & Drehbuchautoren
hervorbringt/-gebracht hat — vielleicht liegt's aber auch an Dogma 95, das dem Ganzen
ursprünglich die (Ausdrucks-)Form verliehen hat ...? Ich bin kein Fachmann, weiß allerdings,
dass sich bspw. auch Nach der Hochzeit (der deutsche Titel des Films) in mehrfacher Hinsicht
mehr als nur wohltuend abhebt von gewohnten Hollywooddramen. Absolut großartig geschrieben,
fotografiert & gespielt. Mittendrin statt nur dabei.
| Wilbur Wants To Kill Himself (DK·F·GB·S — 2002 | Regie: Lone Scherfig)
Drehbuch-Däne Anders Thomas Jensen, die Zweite. Vielschichtig-bittersüßer Film mit britischem
Humor über den Tod, das Leben & die Liebe — so kompliziert und doch so einfach. "Meet a man
dying to live." [Nicht nur Mads Mikkelsen als Arzt Horst (einmal mehr)] Klasse ...
11.| Mifunes Sidste Sang (DK·S — 1999 | Regie: Søren Kragh-Jacobsen)
[Jensen, die Dritte.] Der dritte Dogma-Film ... die Art wie hier das Sich-Zusammenfinden von vier
Menschen mit unterschiedlichsten Hintergründen, Persönlichkeiten und Schicksalen in der
dänischen Einöde geschildert wird, berührt spontan und mit natürlich-unverstelltem Blick. Und
wirkt so schön einzig. Spitze.
13.| Limelight (USA — 1952 | Regie: Charles Chaplin)
Chaplins letzter in den USA produzierter Film. Die Weltpremiere in London nutzt J. Edgar Hoover,
um die Rückkehr Chaplins in die Staaten zu verhindern. Nur noch ein Mal kommt dieser zurück:
1972 zur Verleihung des Ehren-Oscars. Ab 1952 lässt sich der gebürtige Brite in der Schweiz
nieder.
In Rampenlicht schwingt viel Persönliches und Wehmut mit. Ein ernster Film über die letzten Tage
eines großen, alternden Künstlers, der mit seiner Weisheit & Würde einer jungen Ballerina Kraft
und Lebensmut gibt. Aber kein Chaplin ohne Komik — u.a. die Szenen mit Buster Keaton sind
wunderbar. Wie der gesamte Film ...
14.| Absence Of Malice* (USA — 1981 | Regie: Sydney Pollack)
Die Vierte Gewalt auf der Anklagebank. Engagierter, aber auf mich dann irgendwie zu seicht
wirkender Streifen über die Macht der Presse bzw. Paul Newman, der sich dagegen zur Wehr
setzt.
19.| The Gold Rush (USA — 1925 | Regie: Charles Chaplin)
Der kleine Vagabund mit der großen Hose und dem großen Herzen auf Goldsuche am Klondike.
Mehr als nur beachtlich, wie facettenreich Chaplin das Medium Film zu dieser Zeit zu nutzen
versteht. Traum & Wirklichkeit, Poesie & [SFX-]Action — nach eigener Aussage sein bester Film
ohne Worte. Unter (vielem) anderem unvergesslich: Der Brötchentanz. Allzeitklassiker!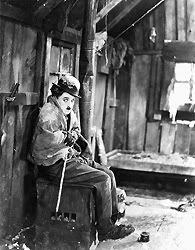 20.| Lilja 4-Ever (DK·S — 2002 | Regie: Lukas Moodysson)
Dieser in tagtäglicher Realität fußende Film über den unmenschlichen Leidensweg einer jungen
Frau ist in seiner überwiegend trostlos dokumentarischen Art ein betroffen und nachdenklich
machender Schlag in die Magengrube. Schwer(wiegend)e Kost, die für meine Begriffe auch durch
die richtige Balance zwischen Wertfreiheit und Beschreibung der Gefühlswelt der Protagonistin
mit filmischen Mitteln wirkt. Tief-/-Traurig beeindruckend. Und nichts für zwischendurch oder
nebenbei.
25.| The Phantom Of The Opera (USA — 1925 | Regie: Rupert Julian et al.)
Bisher hatte ich diesen Stoff immer mit dem Namen Andrew Lloyd Webber verbunden, wobei
Musicals überhaupt nicht meine Sache sind ... es wurde also höchste Zeit, sich diese erste
(zumindest erhaltene bzw. stummfilmische) Adaption des Gaston-Leroux-Romans von 1910
anzugucken. Nicht zuletzt durch die effektvolle Leistung von Lon "The Man of a Thousand Faces"
Chaney gilt dieser opulente, von Carl Laemmles Universal Studios produzierte Film als Maßstab für
viele weitere Phantom-Versionen & Meilenstein des Horrorgenres — sehenswert!
26.| Rosemary's Baby (USA — 1968 | Regie: Roman Polański)
Gekonnt spielt Polański nicht nur mit den offenen & versteckten Ängsten einer Erstgebärenden,
sondern auch dem offenen & okkulten Horror des "Normalen". Dies ist der zweite Beitrag seiner
losen Trilogie über die Surrealitäten von Mietshäusern & ihren Bewohnern, in der Le Locataire
bisher definitiv mein Highlight ist (siehe oben) — ich bin noch gespannt auf Repulsion von 1965.
27.| Blinkende Lygter (DK·S — 2000 | Regie: Anders Thomas Jensen)
Jensen diesmal als Drehbuchautor-Regisseur. Gediegen-flotter Genremix über einen dänischen
Kleinganoven in der Midlife-Crisis und seine Crew. Skurril, launig und mit dem Herzen auf dem
richtigen Fleck. Schön.
29.| Planet Terror (USA — 2007 | Regie: Robert Rodriguez)
Part 1 der Rodriguez-/Tarantino-Verbeugung vor den Grindhouses des US-Kinos der 60er/70er
Jahre. In feinster B-Movie-Manier spritzt & splattert es unernst und unterhaltsam vor sich hin.
Übrig blieben bei mir einige Lacher und die Tatsache, den Film gesehen zu haben. So richtig viel
scheine ich dem Texaner nicht abgewinnen zu können. From Dusk Till Dawn (mit einem Drehbuch
von Tarantino) bleibt für mich Rodriguez' bester. Der Vollständigkeit halber bei Gelegenheit mal
den anderen Teil des Double Features sichten.
30.| There Will Be Blood* (USA — 2007 | Regie: Paul Thomas Anderson)
"There Will Be Greed. There Will Be Vengeance." [Immer noch] Wuchtig-genial!
| 1408 (USA — 2007 | Regie: Mikael Håfström)
Psychisch-angeschlagener-Mann-im-Hotelzimmer-Horror, der mir letztlich zu glatt geraten ist,
aber durchaus seine schaurigen Momente hat. Eigentlich immer wieder gerne gesehen: John
Cusack.
Done.